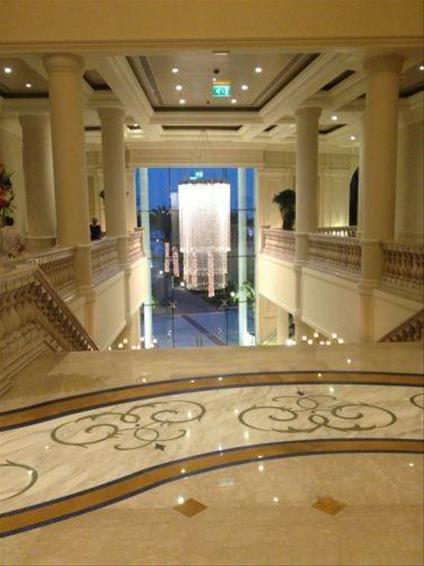 I visited Abu Dhabi on a city break and conference in May. My husband and I stayed at the magnificent beachfront Fairmont Bab Al Bahr Hotel. Our suite overlooked the Sheikh Zayed Grand Mosque; a breath-taking view.
After spending the first day relaxing by the pool, we decided to partake in a city tour. We saw the Jebel Ali Port, the biggest man-made port in the world, stopped outside the Grand Mosque for some photo opportunities and then we then continued to the Women's' Handicraft Centre to admire the skill of the local ladies making traditional handicrafts. We continued through the city viewing the city's oldest building, the Qasr al-Hosn Palace built back in the 18th century. We drove along the beautiful Corniche and then visited the Heritage Village (a journey to the past to explore life before oil was discovered).
After all the culture, it was then time for some fun and no better place than Yas Island...WOW was my reaction! We enjoyed cocktails at the roof terrace of the magnificent Yas Viceroy Hotel overlooking the luxury yachts and Formula 1 race circuit after a tour of the Formula 1 race circuit, where my husband enjoyed the Kartzone. We spent an afternoon at Ferrari World, a theme park with thrilling rides, exciting attractions, themed shops and restaurants. Whilst there we both experienced the World's fastest Rollercoaster with a speed of up to 240km/h, launched 52 meters into the sky, what an adrenaline rush!!!
Finally, we spent the day at the Yas Waterworld, it really is the ultimate water adventure, hands down the best Waterpark we have visited and we have being to a few, including the Atlantis in Dubai. It was so much fun, and we relaxed in style in between rides as we hired a Cabana. Each Cabana offers cooling fans, towels and a food and beverage delivery service; the only way to go!!
Abu Dhabi really has something to offer all tourists, fabulous shopping, year round sunshine, sandy beaches, endless choice of restaurants and nightlife, and plenty of activities. I would absolutely highly recommend Abu Dhabi as a winter sun destination or a short stopover point en-route to your final destination or to relax on the way home.