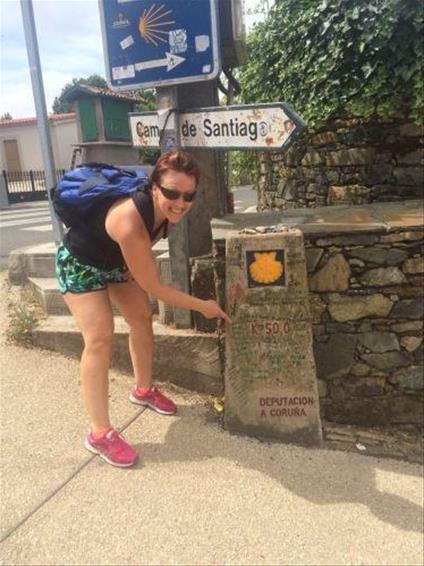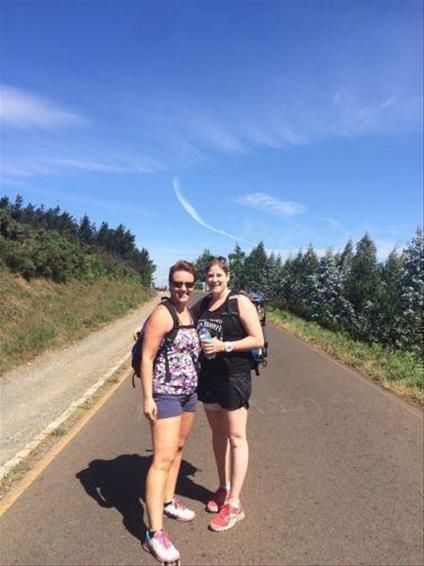 I didn't realise when I booked this exciting trip that the night before I would be filled with such nervous trepidation. Over the previous months so many people had said it was something they had to do on their 'Bucket List'. It was never on mine but possibly with my many photos on my Facebook page and now this blog you will feel you have completed it with me and enjoy it as much as I did.
We had a lovely short flight into Santiago de Compostela in Northern Spain with Aer Lingus before our 2 hour bus journey via Lugo to Sarria which cost €17.75 each. We did a Classic 7 Day/6 Night package which also included walking the last section known as the French Way. Thankfully our suitcases were transported every day to the next hotel. Whether walking for spiritual reasons, for a cultural experience or just a personal challenge – the Camino de Santiago is really a special journey.
I suppose I started with the attitude to get through 'one day at a time' but as the legs got a little weary and the feet started to ache it came down to 'one kilometre at a time'. 111km can seem daunting when you think of it that way. Today, the Way of St James is more than just a pilgrimage, it is a cultural and social experience that attracts walkers from all over the world. We met so many people along the way, including French, Spanish, Americans, South Africans, Australians and of course lots of British & Irish of all ages – both North and South. There was many a 'pit stop' taken where the banter and craic alone inspired you to get through the next few kilometres.
We spent our first night in Sarria in the Oca Villa de Sarria Hotel – basic but extremely clean and in a perfect location for our first 23km to Portomarin. The Villajardin Hotel was just what we needed after we climbed the final steps up to the Chapel of the Clouds. It certainly felt like Cloud 9 to us as we sat on our balcony overlooking the lake in the glorious sunshine that first afternoon of rest before we enjoyed some fantastic food sitting in the sun around the small square close to the fortress church.
We then moved on to Palais de Rei – another 23km with an estimated time of 6 hours walking. Maybe it was the sunshine, maybe it was our bodies recovering from our first day of walking but we certainly struggled on the 2nd day and I think it took us over 8 hours to complete. We took more rests and for longer periods but we got there in the end and the Complejo la Cabana was a sight to behold. We loved it. La Cabaña (the Cabin) built completely of wood, is situated on the most beautiful grounds, surrounded by gardens, pines and chestnut trees and was right alongside the Camino path which was so fantastic. We treated ourselves to some good food and a massage – only €15 for 30 minutes and in the comfort of your own log cabin room. It was definitely what our tired legs and feet needed that afternoon and made the 28km to Arzua the next day seemed less daunting.
This day can actually be split into 2 stages of 15kms and 13kms if you wanted to walk at a more relaxed pace. But we made good time and reached the 15kms mark of the town of Melide after only 3 hours. After some lunch and a rest, we set off again for the final 13km. Our hotel on that night was The Teodora – again it was a perfect location and extremely comfortable for an overnight stay. On day 5 we had another 22km which took us mainly through woodland, sleepy villages and along streams. We stopped in Rua after 18km at a charming little hamlet with beautiful stone farmhouses where the traffic jams consist of just cattle blocking the roads and we soaked our feet in the streams – it was pure bliss! A further 4km brought us to Amenal. There wasn't much happening here at all but again it was a fabulous little spot right on the pathway of the Camino so we had some good food and of course a refreshing vino blanco before another good night's sleep ahead of the final 14km to Santiago.
We had fire in our belly on that day as we set off with gusto knowing we were almost there. There were even a few tears as we walked downhill from Monte de Gozo towards the city of Santiago. I think in my case it was pure relief that we had done it. In the Middle Ages, this is where the pilgrims used to see Santiago for the first time after days and weeks of walking. We arrived at the beautiful Cathedral of Santiago before lunchtime in glorious sunshine. And wow was it worth it! A truly beautiful city with lots of narrow winding cobblestone streets, full of quirky tapas bars and restaurants, where you can sit out on terraces enjoying some fantastic Galician cuisine. Our hotel in Santiago was the beautiful and historic 4* Virxe De Cerca, which is extremely central allowing us to easily enjoy this beautiful old city.
You may have noticed that I have not said much about the food & drink but I feel that is another fantastic chapter. Breakfasts were very continental and what you would expect from this type of trip. They were very sufficient for our needs with lots of fresh juice, fruit, various breads and pastries. And I must say it was the most delicious bread ever – I think I ate more bread this week than I have in a year. We set off most mornings from as early as 7am so we would often stop for a drink or quick snack on route, often some lunch and then we would head for dinner once we had checked in and refreshed ourselves. We had some fabulous and memorable meals which were so inexpensive. Many of the places even do what is known as a Pilgrims Menu with a 3 course meal with a carafe of wine from as little as €9 each. It was just incredible food overall. We enjoyed some fantastic paella, monkfish, seabass, scallops and so much more. I could talk about the food forever.
It's really too hard to get across in words what an awesome and challenging experience this was. I had an amazing week, with stunning scenery, delicious cuisine and the best company where reality was so far removed from my mind that time allows you to reflect on what we have, what we don't need and how to be truly grateful for what we do have. I have a motto in life 'shoot for the moon and even if you miss you will land amongst the stars'. This experience was definitely one that I can safely say I landed amongst the stars.
So if you feel this is for you as a single traveller or a group of friends do not hesitate to contact me for more details.