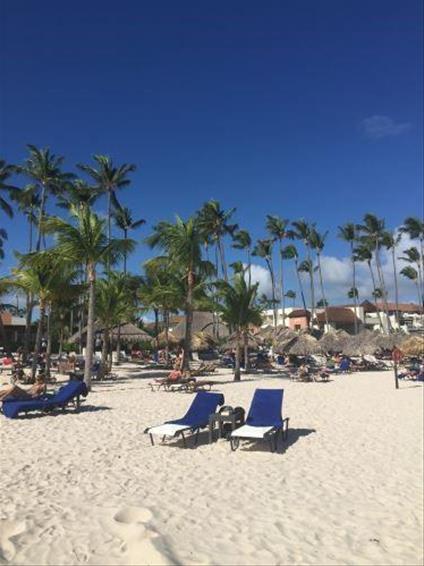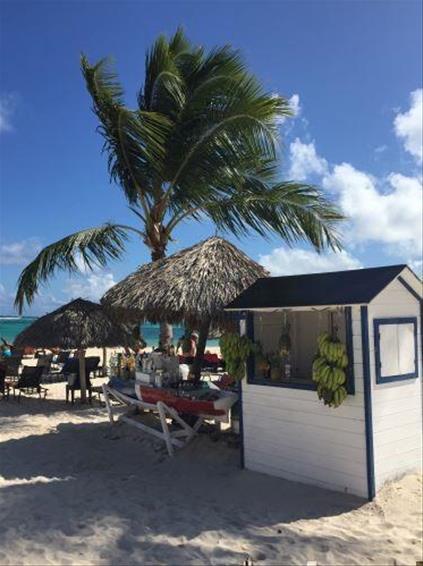 Well what better way to start December then a trip to the Dominican Republic. My sister and I flew via Gatwick with British Airways. They have excellent connections from Dublin and flying with them was another enjoyable experience of this year and one I couldn't fault, from the super service on-board to the dining options.
The balmy heat that greets you on arrival, always super excites me! I hold no claim to being a cultural fanatic but a sun worshipper I am and trust me, I was not disappointed. When we arrived at our hotel the Now Larimar we were told that we were upgraded to the Secrets Royal Beach Punta Cana next door which is their sister property but is "Adults Only", so with no kids in tow you can only imagine how giddy and thrilled we were. Our room for the next 3 nights was a Junior Suite Tropical View which would be a lead in room type category and it was really lovely, huge and decorated in bright colours and featured a Jacuzzi bath on the balcony (yes that caused even more giddiness – even though we never used it). It also had a lovely big bathroom with a massive rainforest type shower.
Secrets Royal Beach Punta Cana is situated on 700 yards of a picturesque palm-studded, white sandy beach in Playa Bavaro and it was like an escape to paradise. This resort boasts a host of amenities and various contemporary accommodation types. A free form pool winds its way through the perfectly manicured gardens. Guests can enjoy all the privileges from your finely-appointed rooms to the expansive powder-white beach with a daily refreshed mini-bar, premium brand beverages, 24-hour room service, pool and beach waiter service, butler service, gourmet dining with full access to the sister property Now Larimar and its facilities… just to name a few. Looooooved the Seaside Grill and especially loved the Barefoot Beach Grill – think sand between your toes as you dine on a fantastic BBQ style lunch with something to suit everyone. We were blown away and would eagerly return. I didn't want to leave!
Our next stop was Dreams Palm Beach Punta Cana. On arrival we were met by very friendly staff but alas I was a little disappointed in this property. It's rated a 5 Star but I would see it as a 4 Star possibly 4 Star plus, depending on your room type. We had a Premium Deluxe Tropical View which again is the lead in room type, much smaller in size than our previous room and also older and darker colours. I was very impressed with the bathroom which has been upgraded recently with the over-sized rainforest type showers.
But what matters most to me when I holiday, is the beach. Having seen a friends photos who stayed in Dreams Palm Beach back in August I was expecting an amazing beach, but alas it seems the tides during the winter meant that this beach wasn't great during our stay. So if the beach isn't your priority then this won't take away from the overall enjoyment of your stay as the pools, bars and restaurants were equally as good as Secrets especially the Seaside Grill (yes we like our steak) and the Asian Restaurant, where we thoroughly enjoyed a Teppanyaki cooking experience. In all the properties we couldn't fault the buffet restaurants for any meal – the selection of food was outstanding. Champagne with breakfast anyone? Sure it would be rude to say no!
Well what else is there to do when you have run out novels to get stuck into? Or that fair Irish skin just can't take any more of the amazing sunshine.
There is really lots to do in the area excursion wise, from zip-lining to jeep safaris, various snorkelling, diving and fishing options plus a few different types of catamaran adventures. We chose Saona Island which is rated as the No1 trip to do. We headed off early to the North of the Island to an area known as Romana or Bayibe. There we boarded our Catamaran and sailed off to what I can only describe as paradise – honestly I thought I had died and gone to heaven. An isolated island which resembled what some of you may remember from the old Bounty advert years ago on television. Nothing but swaying palm trees, tropical blue seas and white sands. We had a fun BBQ on the beach at lunch, washed down with some Rum and Coke and learned to dance the Merengue under the shade for an hour or so. Our return journey back to the mainland was by speedboat, exhilarating and so much fun. We stopped off at some natural sand banks in the middle of the sea on our return trip to swim in the clearest waters I have ever encountered and even got to see some stunning starfish in their natural habitat.
And then all good things must come to an end as we sadly said goodbye to this beautiful destination. Would I return to the Dominican Republic? Absolutely! We only scratched the surface of this gem of an island which has so much to offer. Please contact me for more details on this holiday destination which is perfect for friends, couples or families.