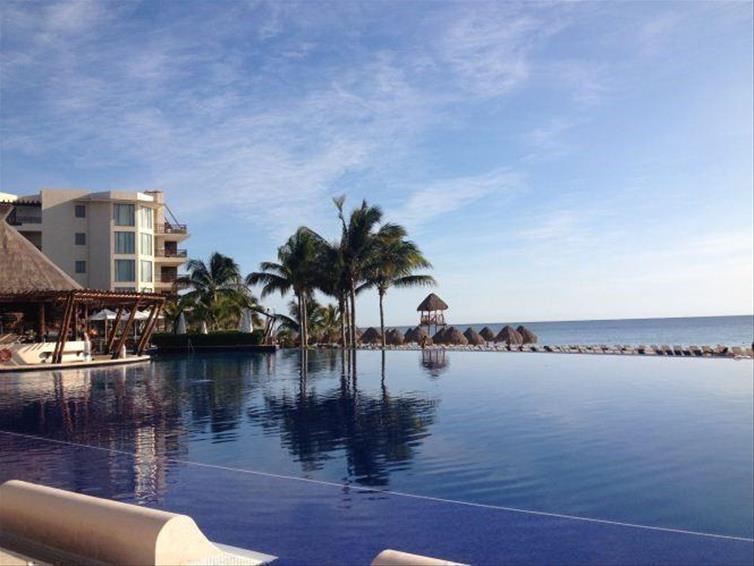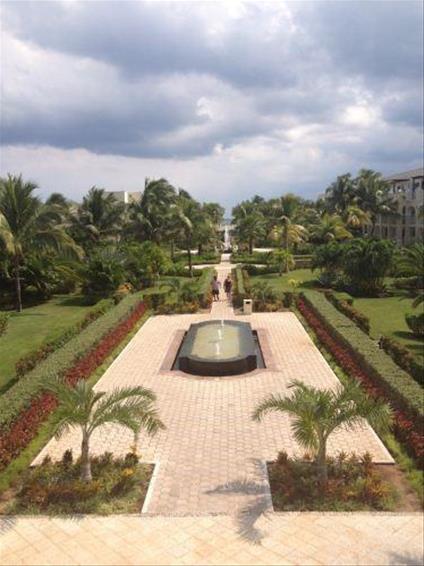 Six colleagues and I headed to Mexico to visit the resorts of Cancun, Tulum, Playa Del Carmen and Puerto Morelos for a hectic weekend of hotel inspections.
So many positive adjectives could be used to describe our time in Mexico but for me 'blown away' is best how I would describe it. We flew out with Air France via Paris - fantastic service on board with a high standard of meals and drinks. Our first stop and overnight was the 5 Star Secrets Capri Resort. There is a classic Mediterranean feel to this hotel with stunning ocean views. All rooms are of the Preferred Club standard so include a host of extra amenities. It's only 5 minutes from the vibrant Playa Del Carmen.
The next morning we headed to Dreams Tulum; certainly one of our favourites, an intimate colonial style hacienda resort reminiscent of a quaint village, it is a super property for a family with an excellent Explorers Kids Club. After an amazing lunch we visited the Mayan ruins of Tulum. That evening after our check in at the Now Jade Resort we headed to dinner in the luxurious Secrets Maroma Beach Riviera Cancun. Certainly my number one choice on the 'World's Best Beach' with so many room types including Swim Out Suites with direct access to semi private pools. Back at the Now Jade we had Preferred Club Junior Suites with Ocean/Pool Views & Jacuzzis on the balcony. Another stunning beach but more a 4 Star rather than a 5 Star property I think.
On our 2nd morning we headed to Secret Silversands. This resort oozes style & sophistication. It's very chic and has an amazing feel & vibe about the place. I really, really loved it here. That afternoon we headed to Zoetry Paraiso De La Bonita which is a completely different type of property than any of the others - much smaller with a more homely but unique feel with its eclectic collection of antiques. Each room type is an ocean front suite based on a different country. One particular client has returned 11 times to the same suite. The owner himself lives on the property and it is an exceptional boutique resort on Riviera Maya. That night we headed to dinner in the stunning Now Sapphire resort. Totally different from the Now Jade with a lovely Mayan/Balinese feel to it. I really liked this hotel also. After our meal we headed to Coco Bongos in Cancun - no words can justify this amazing evening of entertainment.
Our final day started with a visit to Dreams Cancun Resort & Spa in Downtown Cancun - a super location but certainly a resort needing some TLC with the famous attraction being the on-site dolphins. The highlight of the trip and certainly the one we were waiting on with anticipation was the newly opened "Secrets the Vine" in Cancun; awe-inspiring views over the most breath-taking beach. The rooms here start with the basic Deluxe Room to the jaw dropping Master Suites that just bowled each and every one of us over. The oohs & aah's resonated around the rooms as we viewed them. That afternoon we had some fun cave swimming in Xcaret before our final check in at Dreams Riviera Resort. Only 30 minutes from Cancun, this hotel is a wonderland of glistening pools and impressive ocean views. Super for couples and families with the Explorers Club for Kids (9am to 10pm FREE). All of the hotels are All-Inclusive and the quality and standard of food is fantastic with each restaurant and experience surpassing the last one. Unfortunately after 4 amazing nights we returned home via Atlanta with Delta Airlines.
Whether you are looking for a Wedding destination, a romantic getaway or honeymoon, a girlfriend getaway or a fun family holiday, even a group, the AM Resorts of Zoetry, Secrets, Dreams and Now have something for everyone and at prices to match every budget. Would I go back - without a shadow of a doubt YES!!! I loved it and am already anticipating my return trip as soon as is possible. WOW! Contact me for more information and best prices and I can also share some more of my stunning photos with you.