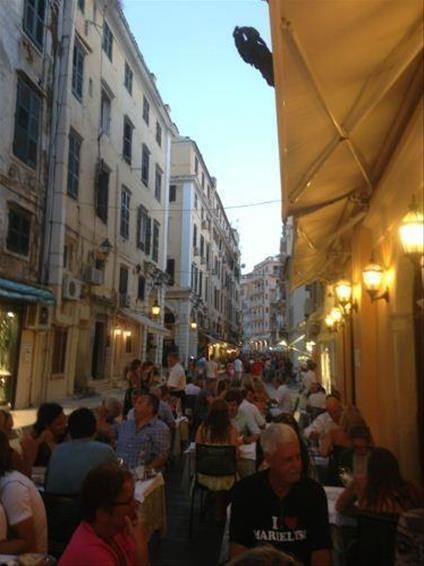 Well it's been 12 years since I had been to Corfu and I suppose the last time I was 25 and partying was a priority but this time I travelled with my active 6 year old and my parents so a different type of experience altogether.
We all had a great time, the weather was HOT just how I like it and the people as friendly as ever. To be honest it has changed a little but then I think thats down to the economic downturn overall and perhaps the Greek situation too so the towns/resorts are quieter than they used to be. We enjoyed some excellent meals and at very reasonable prices - approx €15 to €20 per adult including some vino.
We didn't do too much this year as the holiday was well overdue and a lot of pool/beach time was enjoyed by all - a perfect place to recharge the batteries and a decent Vitamin D injection.
We stayed in the Park Hotel which was only 5 minutes walk from the resort of Gouvia and less than 30 mins from the airport. It's also only about 15 minutes on the bus from the beautiful town of Corfu. Our hotel was 3 Star plus and we stayed on a B&B basis. It was perfectly adequate for the price paid - lovely large pool areas for adults and children, some evening entertainment and clean, well maintained rooms.
Corfu Town is soooo beautiful and a real romantic place for couples - narrow cobble stoned streets filled with bars, restaurants and quaint shops selling everything from your usual holiday knick knacks to stunning jewellery shops - which Corfu is reknowned for. One of my favorite places to be honest.
Corfu Town's split into Old and New Towns. The New is where normal life goes on. The Old is an astonishing mish-mash of cultures – it practically screams aristocracy, thanks to the influence of the Venetians, French and Imperial British.
Bit of a history buff? A 16th century fortress watches over the town, complete with archaeology museums. Step into the incensed cool of St. Spiridon's Church, home to the mummified remains of Corfu's patron saint. Go sightseeing in style in a horse drawn carriage.
The resort of Ipsos and Dassia again are very short bus rides away and we visited the beaches here too. Beaches are very stony and shingly so bear in mind if you are a real white sand beach lover. Overall we enjoyed our week in Corfu and whether you are the active type or just a sunworshipper there is lots for everyone in Corfu.
Will we return - maybe in another 12 years. I like to try new places every year as the world is just too amazing and too big not to but am home happy, safe and slightly more freckly so a happy Travel Counsellor. Please don't hesitate to contact me for further information on resorts, properties or things to see and do.