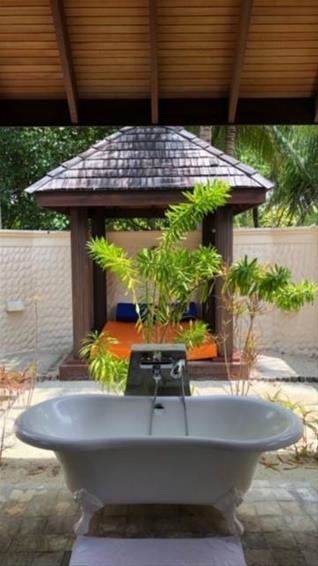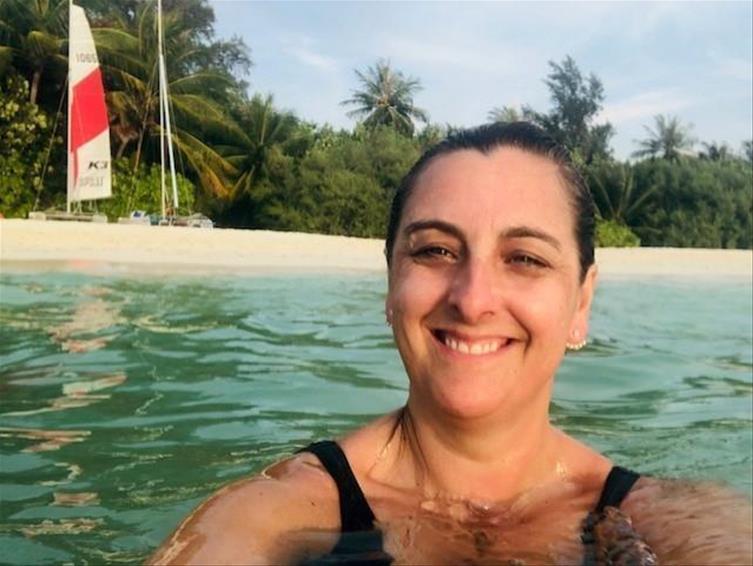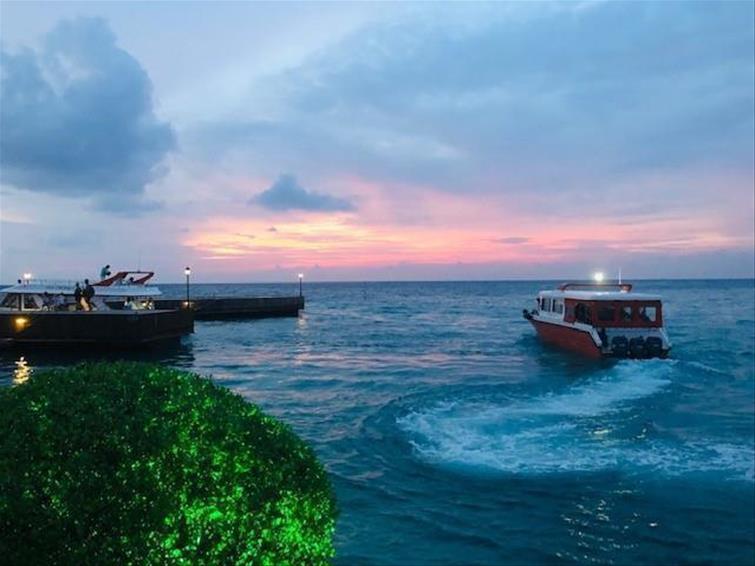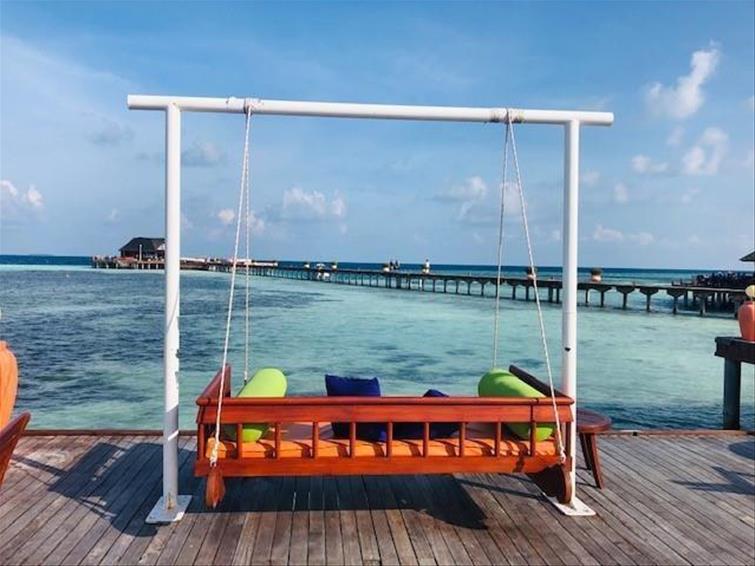 UPDATED July 2020: Atmosphere Hotels & Resorts has launched Ozen Reserve Vittaveli in South Male Atoll, Maldives. Formally the 5 star Jumeirah Vittaveli. A fabulous addition to the Atmosphere resorts. * * * What was the Maldives Really like? Just fabulous is the answer to that question. Here's all you need to know about the Maldivian island, Olhuveli Beach & Spa.
I've been trying to get to the Maldives for 13 years, so it had a lot to live up to, but it's safe to say the whole trip to the Maldives was amazing. It's just picture perfect. I took a total of 600 hundred photos of the island itself in one week! It is just so beautiful you will be snapping away nonstop. Everything from sunrises to sunsets, dolphins to tropical fish, beach swings to overwater villa they all just look so gorgeous in the sun.
The sea is a fabulous clear blue colour that matches the blue skies and the blue just seems to go on forever and the sand is so white. The sea is so clear you can see for meters and meters.
Best of all is the snorkelling off the houses reef, it is really amazing and definitely worth the trip if you are into your diving and snorkelling. Saying there is an abundance of fish doesn't even cover it. There were thousands of fish all swimming in large shoals and there's a drop off too! It's also super easy to access the reef particularly when the tide is out so even for a novice snorkeler it would be very accessible and a wonderful experience. For those wondering about sharks, yes they do have them but as there is such an abundance of fish in these waters the sharks are never hungry, we didn't see any at all!
We stayed in a beach villa which had a magnificent outdoor bathroom with free standing bath, two outdoor showers and a cabana. It was a real WOW factor and it really made it special. A Super King bed in the bedroom with a canopy which was so comfortable, and this lead out though double doors to the deck out the back with another built in sofa to relax on. Ten steps from here and you are literally in the sea. Each villa also had 2 sun loungers on the beach outside your little villa. It was just gorgeous.
The Maldives is very upmarket and extremely well-run destination. Although you are on a small island in the middle of nowhere and the Maldives is an island nation there is nothing backward about this place. The service, the staff, the food and the style are all super. It's a very slick operation which leads to a wonderful holiday experience.
Staying all-inclusive is really the only way to go as even the soft drinks and water are very expensive. The food was fabulous and a there was a massive choice of cuisine on offer.
We stayed on the lead in All-inclusive giving us access to the buffet restaurant for breakfast, lunch and dinner. We could also dine once in the Lagoon restaurant on a five-course set menu and the Four Fusion restaurant which you have a credit towards your dinner here which was fabulous. It is Thai fusion. Lunch can be at the buffet restaurant or you can have a choice of pizzas, burgers, paninis and wraps at the Island Pizza restaurant on the beach. Afternoon tea is also included and served in the Lagoon restaurant and lastly the mini bar in your room is also part of the all-inclusive package. It was brilliant really.
All your snorkelling gear, masks fins etc are included for the duration of your stay, you just collect them once and drop them back at the end of your trip. Non-motorised water sports are included in the all-inclusive – Paddle boarding, kayaking etc. A 15 mins jet ski lesson and a 15 min wind surf lesson are also included. Plus, one excursion from of choice of three. We went on the Sunset dolphin watching trip which was lovely and finished off with a glass of cava as the sun set. Life doesn't really get much better than this. So as you can see there is loads of value for money offered in this Maldivian paradise, and if that is not enough and you want more choice, they do also offer a premium all-inclusive package.
What I particularly like about Olhuveli Beach & Spa is the ability to change up your day. There are 2 pools on the main island, one is an adult only pool and 3 beaches. They have also just opened a new island, Dream island which is connected by a land bridge and you can take a walk over. Dream island offers you another pool and another beach which you are also permitted to use.
Olhuveli is reached by speed boat from Male and takes about 45 mins. It's a lovely trip across and this also helps keep the cost down as a speed boat is significantly cheaper than a seaplane.
All in all, I loved the Maldives and I would love to go back. Olhuveli offers great value in the Maldives. It such a tranquil place, it's really beautiful and the photos I took as nice as they all are just didn't really quite capture the beauty. It really does have to be seen with your own eyes. And the sunset, OMG I could just look at them all day long and I'm missing them already.
If your other half likes to be busy and not just lie in the sun, I wouldn't rule the Maldives out. There are lots of water sports and excursions on offer to keep everyone occupied. It would be a great combination with Dubai or there are even flights from Bangkok and Kuala Lumper if you like to combine South East Asia too.
So, is this the trip for you? Let me know.