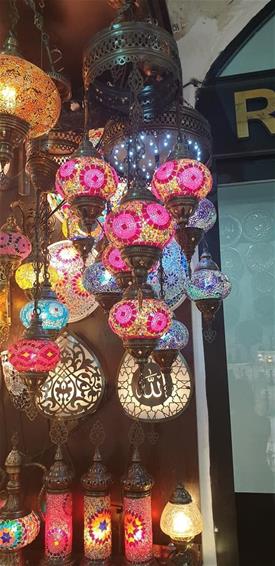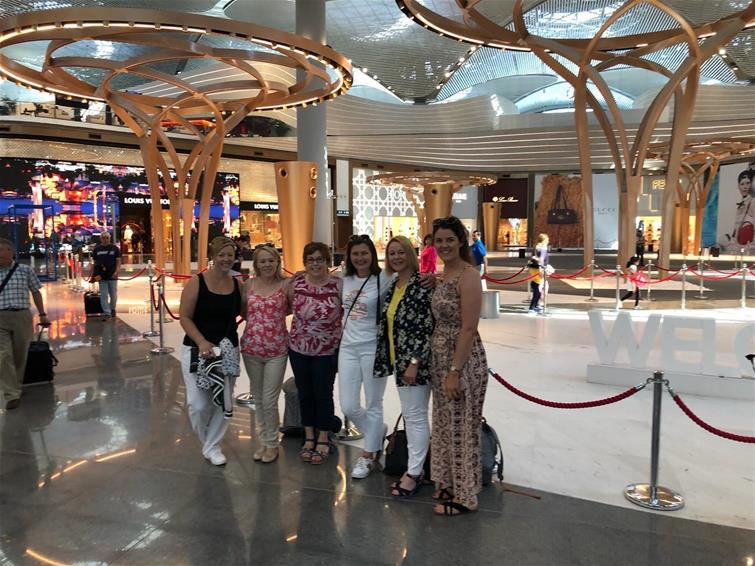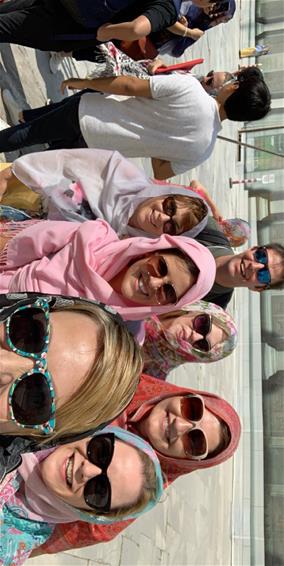 Over the years I have been a seasoned traveller to the much-loved country of Turkey. However, the infamous city of Istanbul, where Europe and Asia magically meet over the Bosphorus Strait had escaped me. So, when the opportunity arose to visit Istanbul I jumped at the chance.
The list of inspiring attractions in Istanbul is endless - the Blue Mosque, Topkapi Palace, Basilica Cistern, Hagia Sophia, the Bosphorus, the Grand Bazaar and local life. My favourite was definitely the Hagia Sophia - first it was a church, then a Mosque and now a museum. It is also famous for its domes and gold mosaics. We rambled here for quite a while and even got to visit the upper galleries via the original ramps. It was simply stunning. When it was time for a well-earned lunch, we enjoyed our Turkish Meze in the sunshine and took in the view of the beautiful Bosphorus river.
Our tour then led us to the Grand Bazaar and our excitement levels were rising in anticipation for this. Well what can I say the sights and smells of the Grand Bazaar was everything I had imagined and more. It's colourful and chaotic doorways and lanes are filled to the brim with local produce, crafts and treasures. Turkish tea and treats are plentiful and all part of the shopping experience. If that's not enough to awaken your senses and bring out the best haggler in you there is also the Spice Bazaar. I only hope my pictures do my experience justice as words fail me. It's another world where one could easily spend anything from 2-3 hours or 2-3 days exploring.
That night we enjoyed a very fun cruise with dinner and drinks on the Oriental Bosphorus - plenty of Turkish music with some folk and belly dancers thrown in for good measure plus an onboard DJ to keep the crowd on the dancefloor until late. It was a great experience as we sailed past all the high-end properties and restaurants along the Bosphorus. It was definitely something worth doing as part of a group. We laughed until we cried and if that's not the sign of a good night, I don't know what is.
We stayed in the Eresin Hotel in the Sultanahmet Area of the Old City, a boutique style hotel which hosts its own private museum. What's not to love about cocktails on a rooftop bar while watching the sunset. We couldn't have asked for a better location with so many fabulous restaurants and bars all within walking distance.
We flew directly to Istanbul with Turkish Airlines into the brand new Istanbul Airport - WOW – it is on another level. When completed they expect it to accommodate over 200 million people and to be the world's busiest airport - six times the size of London's Heathrow. Turkish Airlines fly to more destinations in the world than any airline, thus making it the largest carrier and operates to the highest of standards, complete with your very own flying chef.
Alas my visit to Istanbul was filled with plenty of Turkish Delights and we certainly departed wishing we could stay longer. I am already looking forward to a return visit to Istanbul - I most certainly will be back. Feel free to get in touch if you think a weekend in Istanbul needs to be ticked off your Bucket List!