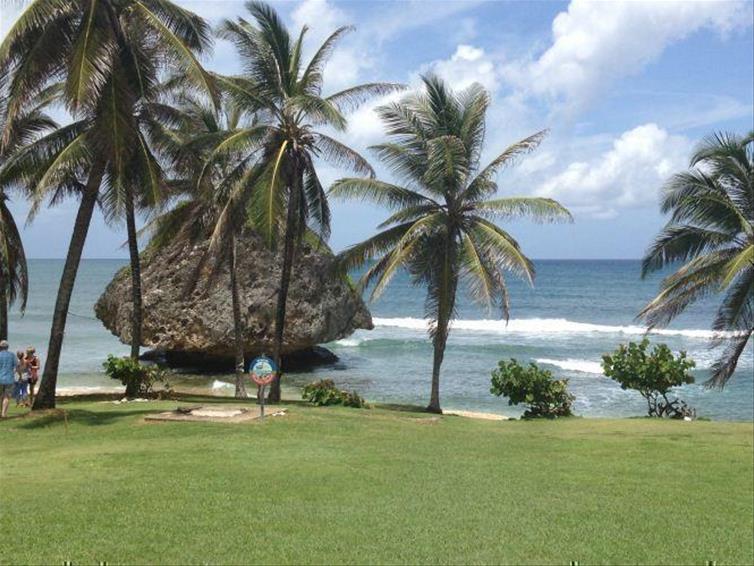 *UPDATED July 2020: Tamarind beach resort by Elegant resorts is coveting to a "premium all-inclusive resort." Tamarind is one of seven Elegant resort properties in Barbados, which I have visited myself and include The House, Colony Club, Treasure Beach, Crystal Cove, Waves Hotel and Spa and Turtle Beach*
I wasn't sure what to expect from this tiny Caribbean island at just 21 miles by 14 miles wide! It did seem small but as the Bajan people refer to it as '21 miles long and a smile wide' I reckoned we were off to a good start.
The first thing you notice when you arrive is how nice the beaches are; they really are picture perfect with turquoise seas and white sandy beaches just like you see in the brochures. Although you can just chill out at the beach or the pool there are great water sports facilities in each of the hotels. If you stay on an all-inclusive basis, which I would highly recommend, all the non-motorised water sports are included in your stay and in some hotel the banana boat rides are free too.
We stayed in some of the Elegant Hotels while visiting Barbados and my favourite by far would be Crystal Cove. It is upmarket without being stuffy, quite modern and chic but also has fabulous staff and great rooms and the food here was also really good. They also have a cave bar and to get to it you have to swim under a water fall which was really unusual and great fun. The pool area is funky with a restaurant overlooking the beach which was just gorgeous. A short stroll down the beach is an area where you can swim with sea turtle's - which is a must.
It really was a week of firsts for me as I learnt how to do so many things. The variety of activities on this tiny island was exceptional. We learnt to surf, stand up paddle board and play polo on horseback. We ZipLined though the rain-forest, swam with sea turtles and if that wasn't enough visited the famous coral caves, recorded a CD, went rum tasting and took a catamaran cruise. So there really is something for everyone in Barbados.
One of the things I liked best about Barbados was the Bajan people; they are such good fun, always in good form and also happy to have a chat and a giggle with you. They have a very similar sense of humour to the Irish and they get "the craic". Everyone was lovely from the hotel reception to the waiter to the dancing chef to the local guys on the beach whose patter was fabulous and made you smile rather than cringe when they were trying to sell you something. It really made the trip for me.
I would recommend staying on an all-inclusive basis for value for money, but you must also visit the local town of Oistin's because on Friday, Saturday or Sunday night they have a cook out. The local restaurants cook outside on huge BBQs and all the locally caught fresh fish is BBQ'd up. We had Shark fish, Marlin, Red Snapper, Shrimp and Mahi Mahi; the selection was enormous and extremely tasty. It is very rustic and everyone sits at picnic benches and it is a great experience with great atmosphere and live music too. It is also possible to stay in Barbados on a bed and breakfast basis and dine in the local restaurants. The restaurants are lovely but a little expensive and depending on where you stay, you might need a taxi down in the evening to the local town for dinner.
All in all it is a fabulous destination that I would highly recommend. It also makes a lovely combination with New York if you should fancy a bit of shopping or city buzz on your trip.
Call me for more details.