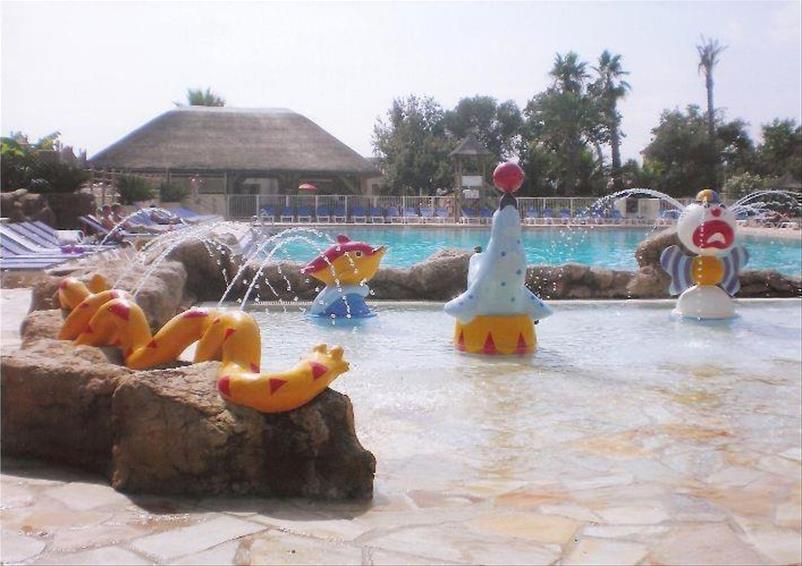 We decided this year we would like to try something different from the standard package holiday so we booked direct flights to Nice on the Cote D'Azur. The Côte d'Azur or French Riveria as perhaps it is better known has a most diverse coastline with stunning cliffs and the rolling countryside of Province. Add to this the chic resorts of Fréjus, St. Raphael and St. Tropez and you will really feel in a different world. Cannes, famous for its film festival and Monaco are all nearby.
We hired a car for a week and booked a mobile home on a 4 Star campsite called Domaine Du Colombier in the resort of Frejus. Frejus is only 40kms from Nice Airport so ideal for those travelling with little ones. Our home for the next 7 nights was a 3 Bedroom Mobile with decking and air conditioning - which surprisingly enough we did need during the week as temperatures rose to 26 degrees celsius. It was lovely in the evenings to chill out on the decking enjoying a glass of vino and watching the sunset. The mobile home was bright and modern and came equipped with a travelcot, highchair and a buggy. The site itself had a small supermarket, restaurant for evening meals and a fantastic pool area with slides for the big kids as well as the little kids. Its also had plenty of playgrounds for different age groups including a mini bouncy castle in the toddlers playground. We were glad to have the car though as it's a good 2kms to the town and about 4kms to the beach. Fréjus itself is a fashionable resort town with fine sandy beaches and a wonderful Aquatica Waterpark.
The highlights of our trip to the Cote D'azur were:
St Tropez Picturesque fishing port lined with lavish yachts, a popular resort for artists since the 1890s. I LOVED it here. The yachts were amazing and with plenty of cute cafes and bistros opposite the marina you could easily sit here for hours people watching. The little narrow cobblestone streets are lined with shops from Gucci to Prada to Dior. Good for window shopping if nothing else.
Cannes A magical city of entertainment with yachting marina. We found Cannes very busy and fast moving compared to the other towns and resorts. Would have liked to explore Cannes more if we had more time. It seemed to have plenty of shops, bars and restaurants to suit all tastes and pockets.
Nice Just 16 miles approx. from the Italian border. Situated on the Paillon river, which divides the old town with its quaint narrow streets and harbour, from the new town which extends along the Promenade des Anglais, lined with hotels and villas, and only 4 miles to its busy international airport.
Monaco/Monte Carlo The old town of Monaco has an attractive setting high up on a steep rock overlooking the Mediterranean, here you will see the palace, home of the reigning prince. The capital of Monaco is Monte Carlo, famous for its casino and its annual International Monaco Grand Prix. You can even drive a Ferrari for approx. €80. We spent hours walking around this beautiful town trying to locate the Ferraris in action but unfortunately it was Yacht Week while we there and it wasn't possible. My husband was bitterly disappointed. Ah well we will just have to go back again.
All in all I found the South of France perfect for couples and families alike, particularly those that like a bit of exploring and dont mind driving - which as a matter of interest in this neck of the woods is not for the faint hearted. And the wine is cheap, which is always an added bonus!