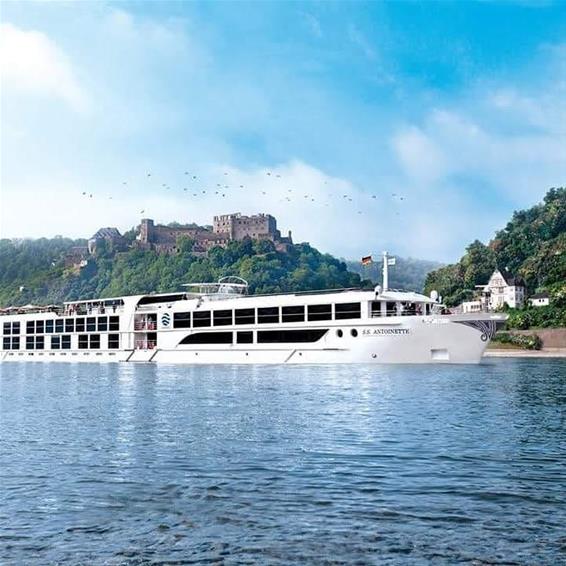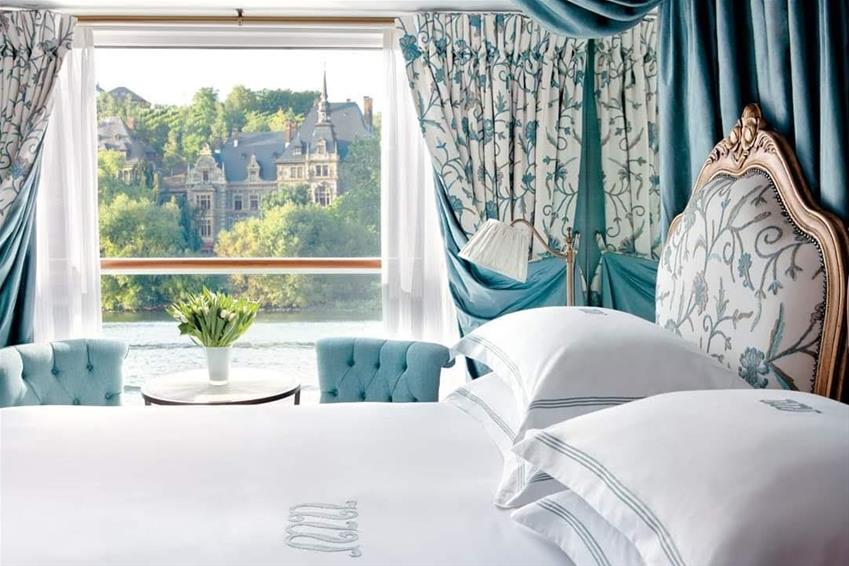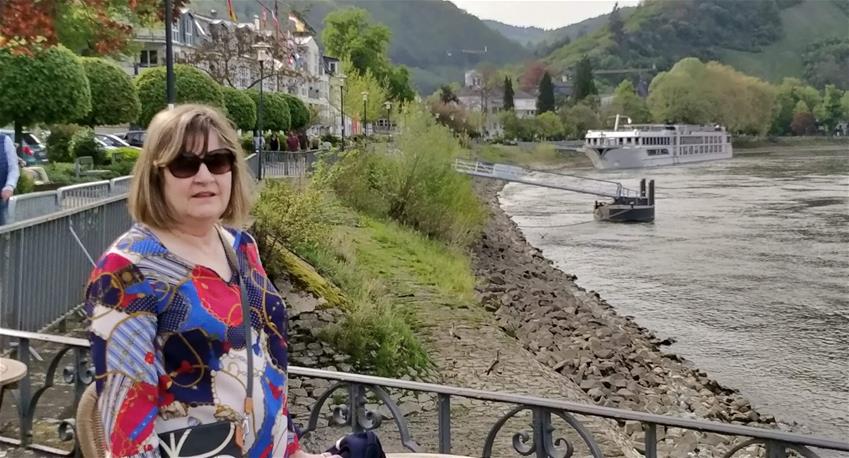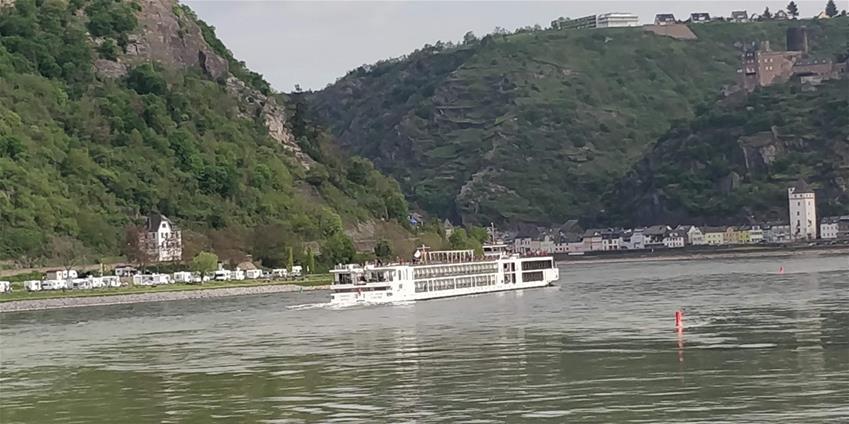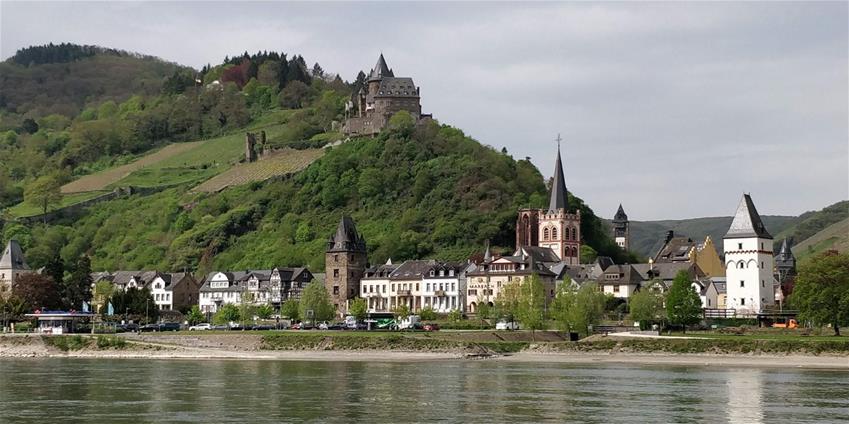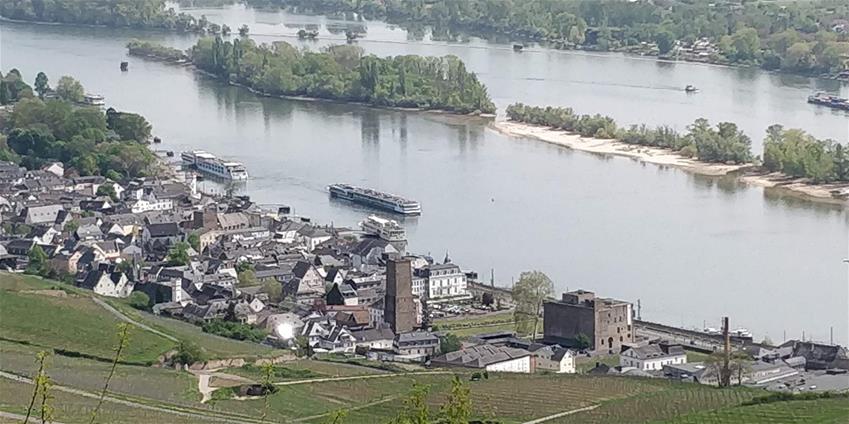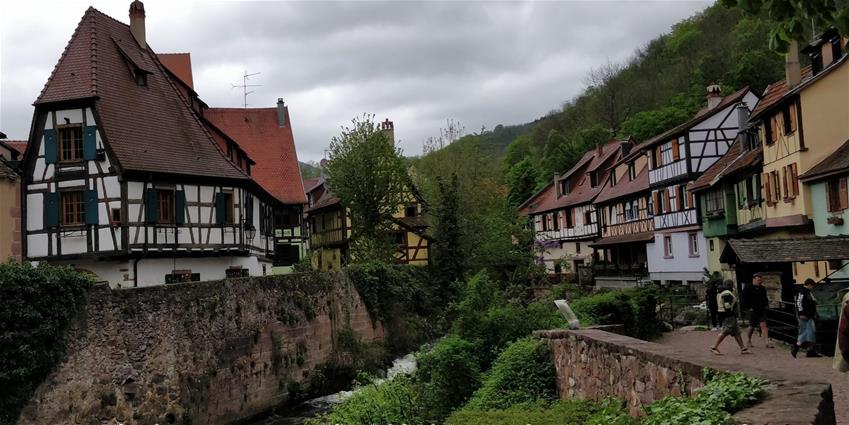 I spent a wonderful week on board Uniworld's SS Antoinette in April 2019 on the Castles along the Rhine river cruise. Uniworld offers a luxury boutique river cruise experience and each of their ships is rich in character with its own distinctive theme and colour palette, original art and sumptuous furnishings and antiques. Our stylishly decorated room had a French balcony – the top half of the floor to ceiling window could be lowered electronically. The cabin was spacious with plenty of storage, 2 seats and a small table, and a marble ensuite. Treats such chocolates in the room were restocked daily and when we came back from dinner we would find a little gift waiting for us. We also received a stainless-steel water bottle for carrying water on excursions. Single use plastics are banned by this company as they are committed to help protect the environment.
We began our cruise standing on the top deck with the other passengers as we sailed away sipping our complimentary champagne, and complimentary brandy coffee was also served on deck when we cruised by the castles along the Rhine. There were plenty of loungers on the deck for everybody to relax and enjoy the views as we sailed along the river. All meals were served in the restaurant with open seating, and this enabled us to meet many of the other passengers onboard.
We stopped at several picturesque fairy-tale villages along the Rhine from Germany to Alsace in France. The half-timbered houses of Strasbourg, Colmar, Kaysersberg and Riquewihr were particularly beautiful. Riquewihr is said to have been the inspiration for Belle's village for the animators of Disney's Beauty and the Beast. Walking tours or cycling were available at most stops and if we could not reach a town or village on foot a coach was provided. We took advantage of the complimentary bikes on board and cycled along the river near Germersheim stopping off at a riverside bar for a drink.
In Cologne we took a walking tour of the city and visited the magnificent Cologne Cathedral. After a walking tour in Koblenz we took a cable car across the river which afforded magnificent views of the confluence of the Moselle and the Rhine. We strolled through medieval Rudesheim before travelling by coach to Schloss Volrads to enjoy a Riesling wine tasting. It is not necessary to go on every excursion if you don't want to, it is also possible to stay on board the ship or take a cycle along the river.
This cruise will appeal to those who love romantic picturesque villages, castles and cathedrals and beautiful scenery. A river cruise offers the convenience and luxury of an ocean cruise with the in-depth experience of a land tour and more personal freedom than a purely land tour and you only have to unpack once. You can watch towns and villages glide by as you sit on deck sipping a glass of wine with so much more comfort than on a coach tour.
Uniworld river cruises are the most all-inclusive of river cruises. Practically everything is included, airport transfers, accommodation, all meals, all drinks, excursions and gratuities. Once you are onboard there is nothing else to pay. We travelled in April flying into Amsterdam and departing from Basel in Switzerland.
If this sounds like your dream holiday or if you in need of some destination inspiration contact me to start planning your next adventure.