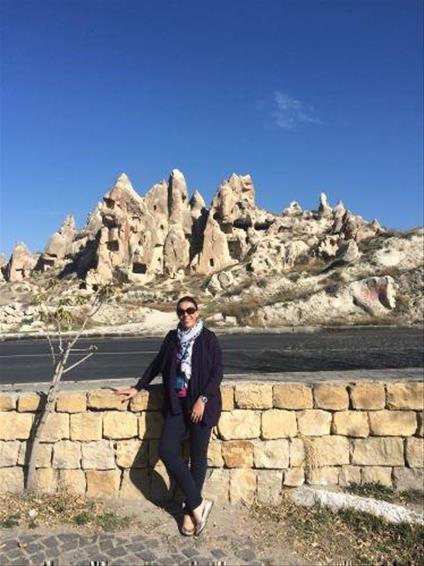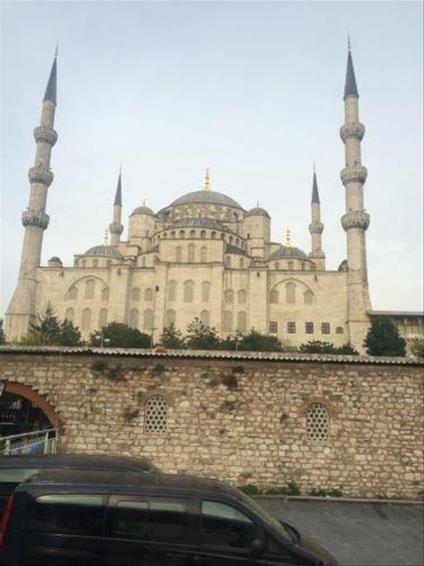 I was thrilled to have been offered a place on the Insight Vacations Turkey Top Achievers trip. When we landed in Istanbul I was brimming with excitement as I have never been to this area of Turkey before. I knew we had a hectic week ahead but it was going to be amazing.
After collecting luggage myself and 5 other Irish agents were met by an Insight Representative and given a very warm welcome. We were taken to our coach and within 45 minutes had arrived at our first hotel the CVK Park Bosphorus, Istanbul. When travelling with Insight Vacations all your hotel check ins are pre-arranged and you do not even have to take your luggage off the coach as it will be delivered to your room within 15 minutes of arrival in all the hotels. What a beautiful 5 star hotel, right next to Taksim Square and a perfect location to base yourself. We joined the other tour members there and after a lovely Welcome Reception we had a delicious Traditional Turkish Meal.
Early start next morning all 37 agents went to visit the famous St Sophia Museum which was the greatest church of Christianity until the conquest of Istanbul by the Ottomans. The mosaics and history in the Hagia Sofia Museum were amazing. We then headed for Bursa which was the main textile manufacturing centre of the Ottoman Empire, here we were given the opportunity to visit the bazaar and the silk market. We also visited the Green Mosque and the Grand Mosque and the Mausoleum complex. In the Green Mosque we met the prayer Leader (Imam) and he recited the 5 calls of prayer for us, this was a very special experience. In Bursa we stayed at the 4 star Hotel Celik Palas where again a beautiful buffet was awaiting us.
Next morning we head towards Turkey's modern Capital Ankara and visited Hittite Museum to discover the fascinating history of Asia Minor from the earliest times, here are some amazing pieces dating back 100's of years. We stayed in the 4 Star Hilton Ankara Hotel, perfect for visiting the centre, we strolled down the main area and had a walk around Swan Park. After dinner in the Green House Restaurant in the hotel, the group walked to a local bar and thoroughly enjoyed some "Craic agus Ceol" Turkish style!
Following morning before leaving for Cappadocia we visit Anit Kabir, the mausoleum of Ataturk, he was the founder of Turkish Republic and was Turkey's greatest leader in modern times. Here some magnificent paintings of Ataturk adorn the walls and key pieces of his clothing are preserved, there are fabulous murals depicting the war at Galipopli in which thousands of people lost their lives and which the Australians and New Zealanders call ANZAC day.
On arrival in Cappadocia that evening we stayed at the Doubletree by Hilton Hotel Avanos. We were taken to a beautiful restaurant next to the Red River and again had some delicious Turkish fayre. I had decided to avail of the optional extra and try the "Hot Air Ballooning" over the UNESCO World Heritage Site of Goreme, an extra early pick up at 0530 and off we drove. I was hoping that there would be other balloons in the air too and I was not disappointed! Over 100 Balloons all gliding over the mushroom shaped "Fairy Chimneys" of the Pasabag Valley, a truly unforgettable experience. After this we headed for the Open-air Museum where remains of several hundred early churches, where rooms were hollowed out of the cones of volcanic ash. We were welcomed into Hassan and Fatima's home where she is 3rd generation living in such a hollowed house, this was really touching and we were served apple tea and yummy orange cake. This is exclusive to Insight Vacations.
From here we visited a local carpet workshop where local women were taught to weave various types of carpets. We had a morning visit to a ceramics atelier in Nevsehir, Venessa Seramik where we were shown some beautiful pieces and how they are sculpted and how the intricate paintwork is applied by hand. We then transferred to Nevsehir Airport for our short 1 hour flight back to Istanbul. On arrival back in Istanbul we visited the Topkapi Palace a walled city and the home of the Ottoman rulers for 400 years, it is perched above the Bosphorus and Golden Horn. It is now a Museum housing a world renowned collection of jewellery and porcelain. We then had 1 hour in the Grand Bazaar where we got to test our haggling skills. I did OK I think!!! That evening as it was our last night in Turkey we were taken to "Nomads" a fantastic restaurant looking out onto the Bosphorus. Here the food, music and entertainment was second to none and a fantastic farewell to our group as we all headed for home the following morning.
I had a wonderful time in Turkey and am going to plan another trip. Insight Vacations were top class and I will be recommending them to all my clients.