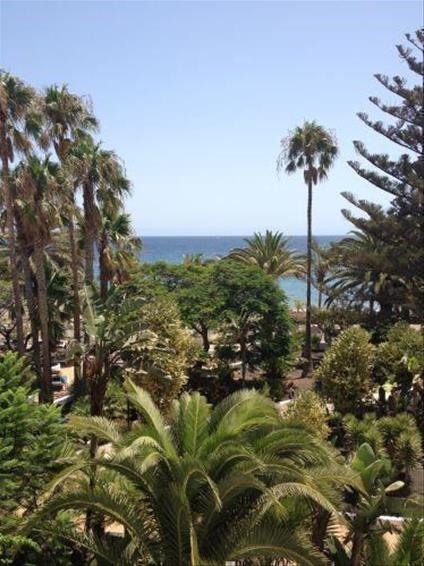 It wasn't a hard decision to make, we love Lanzarote. As a rule I do like to explore different destinations, hotels and apartments, but when you have two children wanting to go back to the same Hotel year after year something must be right! So on the 01st July we flew Cork to Arrecife and 10 minutes later via a taxi, we arrived at the Vik San Antonio Hotel, located on the seafront at Playa de los Pocillos, Puerto del Carmen.
I first discovered this hotel in 2002 on a trip with other agents. I was very impressed so later that year decided to give it a go with my Husband, we have never looked back. It is a wonderful hotel for families, couples or single travellers. The staff are all very helpful and most friendly. The hotel has received numerous awards over the years and it is easy to see why.
The facilities are wonderful; they have a kids club and every evening a mini disco for 30 minutes for the children. You can hire the Tennis courts and if you wish to partake in the activities during the day with Giani he is great fun, from Table tennis to Darts/French Bowles/Archery/Pool table etc.
There is a different show every night at 10pm for adults in the main bar. There are 3 swimming pools, fresh water, salt water and a little paddling pool next to the playground. The restaurant is buffet style for all meals and there are far too many choices every day. As we were away for my daughter's birthday and our friends had joined us for our second week, I asked if we could have a large table for 11 people set up for dinner on the night, I organized a birthday cake with reception and everything was as I had asked.
The waiters had made a beautiful table-setting for us and the chocolate birthday cake was delicious. We availed of the All Inclusive this year and it really was so worth it for water/ice creams/soft drinks etc for the kids, this also entitled you to lunch in the main dining room which was a welcome break for an hour out of the hot sun. You may also choose to have lunch at the pool snack bar.
We booked Racho Texas which is a short 5 minute taxi journey from the hotel or they offer a free bus from right outside the hotel. We had a ball in the zoo area and the shows were fabulous but the kids thoroughly enjoyed the waterpark for the afternoon with the different slides and pools. The hotel packed a beautiful picnic lunch for us to take to the park.
Lanzarote offers so many options to explore the Island. You can hire bicycles, car hire or join many different excursions as a small or large group, plus the shopping is very appealing as it is a duty free island. I look forward to my next visit already.