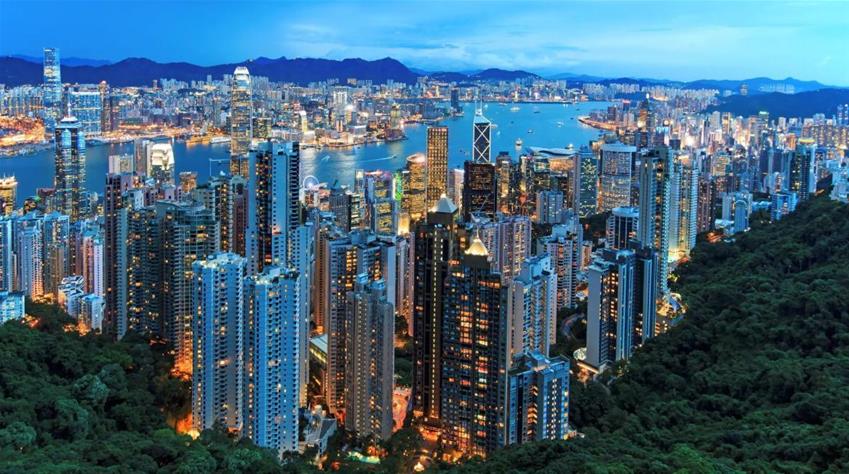 I used to live in Hong Kong, so I know it very well. It is one of my favourite cities and there is nowhere in the world that matches the dynamism, uniqueness and sheer energy of the city.
The first impression you get is that there are a lot of people here! When you head in on the train or car transfer from the airport to the city you see a huge amount of apartment blocks. Not just one or two, but groups of ten or twenty 40-storey buildings all lined up. There's not a lot of space in Hong Kong, so land needs to be used wisely!
There is an age-old debate as to where to stay. In Kowloon or the Island? To be honest I don't think there is a right answer to this. Both have their merits and with the amazing MTR underground train system, you're never more than 20 or so minutes from where you need to get to anyway. It's comprehensive, efficient and cheap. Also because of the level of traffic it's often the fastest way from A to B too.
A really good way to see the main areas of Hong Kong Island is to jump aboard a tram for only $2 (20c) per journey. Head to the top deck, front seat and watch it all go by. If you see anything you like the look of you can jump off, go explore, and then jump back on again.
For example, you could start in Kennedy Town in the west. A traditional area with lots of small businesses and a little taste of the way Hong Kong used to be. It's a great location for restaurants to grab a bite before your journey.
You couldn't get two areas more different as the next district the tram travels through is Central. Asia's financial powerhouse where huge gleaming buildings occupy the skyline. The famous Lan Kwai Fong nightlife area is close by, a maze of small streets filled with bars and restaurants. It's also the terminus of the Peak Tram which has been taking people up Victoria Peak since 1888 for stunning views of the city.
Next up. Wan Chai. It's neon, loud and brash. There are plenty of market stalls dotted around the area, but Wan Chai's 'toy street' has the largest concentration of stalls and shops. Selling everything from live turtles, flowers and toys, to vegetables, meat and live seafood, the market streets are full of character and offer a fascinating glimpse into life in this bustling neighbourhood.
Causeway Bay is further along the tracks and a bit more refined, it's considered a microcosm of the whole city. A shopper's heaven with huge mega-sized department stores and many notable local-style restaurants. Also, home to Times Square. Not quite as big as its American counterpart, but a glittering and exciting place all the same.
Another must-do in Hong Kong is the Star Ferry. It's the best way to get those photos of the instantly recognisable Hong Kong skyline. It runs well into the evening, so I'd recommend a trip after sunset, so you get to see the city lit up in all its glory. A memory that will stay with you forever!
Once over in Kowloon, the first part to greet you is The Promenade. A cluster of Hong Kong's top museums and performance facilities. Places I'd mention specifically are the Hong Kong Museum of Art and the Space Museum and I highly recommended both. The designer shops of the 1881 Building are worth a look around too, even if it's just window shopping! It's a gorgeous building. It was the Old Marine Police Headquarters and one of very few examples of historic buildings in this part of town.
A walk-up Nathan Road gives you a real flavour of this part of town. Those iconic neon signs stretching into the middle of the road leaves you in no doubt as to where you are! If the walk gets a bit tiring, the MTR runs up the length of the street, so jump on and let the train take the strain! I recommend one of the many night markets along here if you're out and about after dark. My favourite is Temple Street and make sure you bring your appetite because the street food is delicious!
A lot of people when they think of Hong Kong, they think of skyscrapers, crowds, shopping and you'd be forgiven for thinking that's all that's here. If I said you could go beach hopping, head out hiking in the hills and visit remote fishing villages, would you believe me? That's the relatively hidden part of Hong Kong which is Lantau Island and it's just a half an hour ferry ride away from the hustle and bustle of Central.
It's a fascinating city and I could write double what I have above and still not even scratch the surface so get in touch if you're in need of more holiday inspiration!