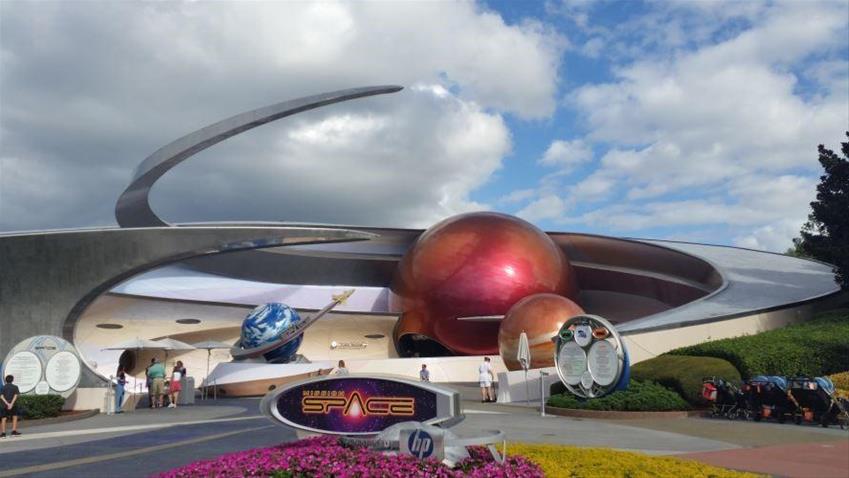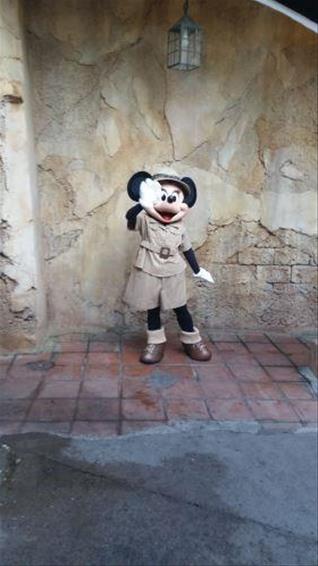 On 18th October 2015, I was very lucky to go to Disney World, Orlando in Florida for 5 nights. Our group flew to Orlando via Philadelphia with American Airlines and I was very impressed with all aspects of our flights including comfort, punctuality, on board service and staff.
On arrival at Orlando International our transition was very smooth as we had cleared US Immigration at Dublin airport, so we only had to collect our luggage and transfer straight to our hotel.
Within 20 minutes we arrived at check-in at Disney's Caribbean Beach Resort. The check-in is located in an external building from which we had to take a shuttle bus to our located block. This hotel is set on 45 acres and surrounds a large lake. Each block has their own small swimming pool and each pool is equipped with disabled access chairs. The blocks are 2 stories high and the grounds are very well maintained with some lovely walks around the lake which a lot of people use for an early morning run, (but not me!). There is one main pool with facilities for children and is supported with a life guard. Dining options include casual and quick service and also an A La Carte Restaurant. There is a small bar with outdoor seating over-looking the lake. At night they have an outdoor cinema which the children love.
We also had to opportunity to visit the Disney Polynesian Resort which I was very impressed with. Being a deluxe category hotel it offers private water villas over the lake and large rooms for 5 people. The monorail is available at this property to Magic Kingdom. Due to its location the evening firework display is visible from the Polynesian Resort Hotel. A lot of the rooms have been refurbished to a high standard which is clearly visible.
Following on we visited the Disney Coronado Resort which is a moderate category and is considered as their convention property, very similar in style to the Caribbean Beach Resort in that it is a large resort also set on a lake and although it is a convention hotel, there is a very relaxed atmosphere in this hotel.
Probably my favourite was the Disney Animal Kingdom Resort Hotel and would be particularly impressive for animal lovers and those who adore the Lion King Movie. We got to see some Buffalo and Zebra from the balcony of the hotel room, which overlooked the small animal sanctuary. The swimming pool was impressive and lively with 2 lifeguards on duty. The hotel offers both buffet and A La Carte dining.
Finally we got to visit the Art of Animation Resort which is a value resort but we all really liked this hotel. The large self-service buffet is superb with a great selection of cuisine to choose from. The hotel is split into 2 themes, The Lion King and The Little Mermaid and some rooms can hold up to 6 people. The hotel has a large pool and is particularly great for young families. I particularly like the fact that they display some of the original drawings from some of the popular Disney Movies and even some signed art work from the artists.
We spent an afternoon at Disney's Hollywood Studios where we got the test our fear with the Tower of Terror and the Rock N Roll Coaster. Not for the faint hearted but truly enjoyable. In the evening we had our very own VIP area with dinner to enjoy the evening show Fantasmic, which is set on water with amazing strobe lighting effects, acrobatic performances, all finalised with a spectacular firework display.
In Epcot we sampled Test Track, Mission Space (again not for the faint hearted), Spaceship Earth, Soarin (a big must do), Seabase, and definitely not to be missed is the IllumiNations: Reflections of Earth firework display in the evening.
Disney's Animal Kingdom thrill ride is Expedition Everest, River Rapids, and the Kilimanjaro Safari is a beautiful 20 minute Safari well worth a ride. One not to miss is the Lion King Show which is a favourite for all the family.
Disney's Typhoon Lagoon was definitely a treat for us all and a wonderful day out for all the family. Take yourself away from the hustle and bustle of the parks. Enjoy a relaxed trip down the lazy river, relax by the pool on your own sunbed in the sand. For the thrill seeker there are plenty of fast and furious rides to keep you occupied. Personal lockers are available at the Water Park. Just insure you have plenty of sunscreen and lots of energy.
Finally we had the pleasure to spend a full day in Disney's Magic Kingdom which is such a magical experience. With so much to offer every age group including private meetings with Mickey Mouse and Tinkerbell, it really brings out the big child in us all. Personal favourites include, Space Mountain, Splash Mountain, The Seven Dwarf Mine Train, Big Thunder Mountain, Enchanted Tales with Belle, and not forgetting, It's a small world. Plenty of enchanting shops, many varieties of eateries and dining venues and of course the famous Character Parade and the outstanding Firework show to round the day off.
In the evening you must take a trip to Disney Springs the downtown area of Disney which is perfect for some shopping, dining, bars and shows. We frequented the Boat House restaurant which I highly recommend. The food was delicious and the setting is like something out of a movie. They have a wonderful Boardwalk Bar for pre-dinner drinks over the lake. At Disney Springs we got to enjoy the Cirque Du Soleil performance which is both trilling, amusing and an amazing acrobatic show and was a firm favourite with us all. For those who want to party there are many bars with live music but everything will close by 1.30am.
As we stayed in a Disney property we go the chance to use the "MyDisneyExperience" app and website from which you can customise your trip before you depart. You can pre-book your fast track tickets for each day of your visit and book your meal times, select which shows you would like to see. Schedule the whole trip day by day before you even pack your bags. On arrival each person is allocated with a Magic Band which you must wear every day. This band is your personal security watch which allows you to access your room without a key card, charge any purchases to your account without having to carry cash or cards with you and allows you to link up to your Memory Maker which will store every photo for you taken in the parks to access and download on your return.
I could keep talking about Disney World, Orlando if I had the space and have so much to share, so please do contact me directly if you wish to make an inquiry or just ask a general question, I would be only too happy to advise you on the best options for your party.