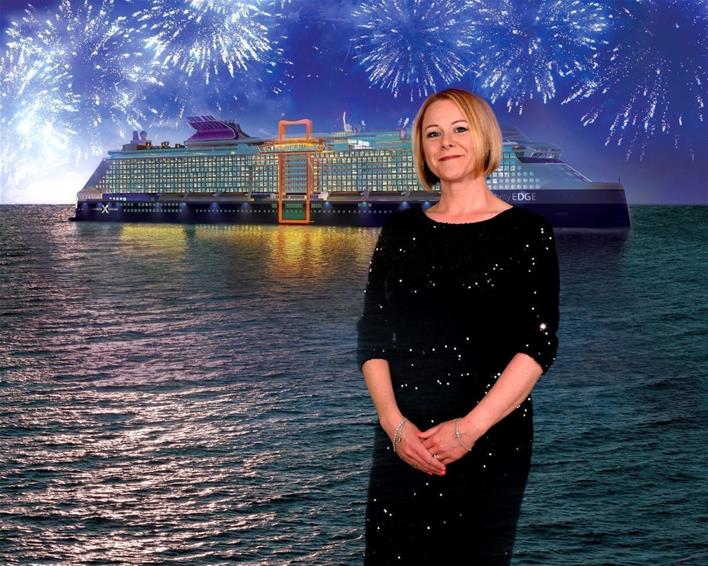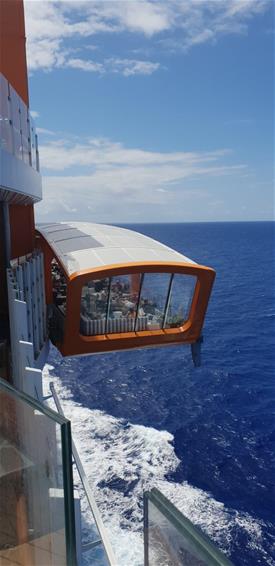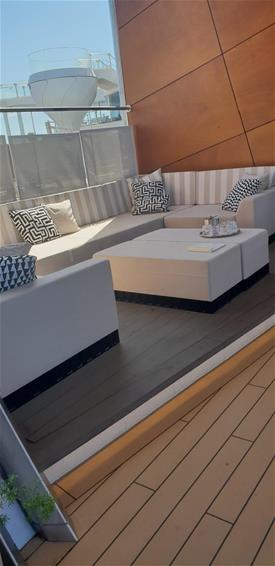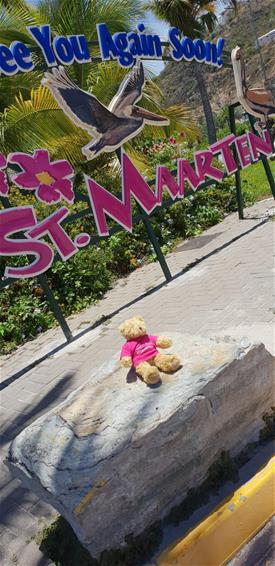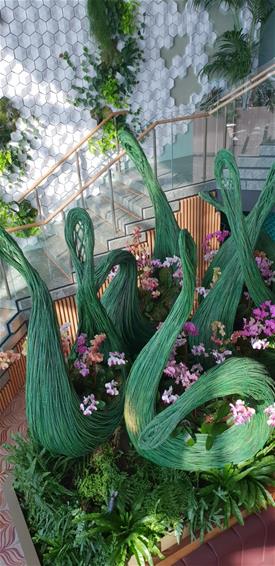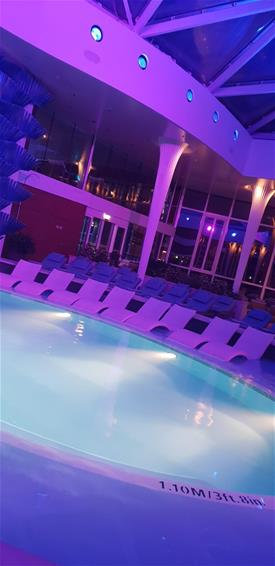 The moment I completed a webinar introduction on the new Celebrity Edge cruise ship I instantly fell in love with the concept of the new Edge class by Celebrity Cruises and immediately booked our cruise 2 years in advance!
We flew direct to Miami with Aer Lingus and enjoyed 2 pre-nights in Fort Lauderdale followed by 3 nights post cruise in Miami which I will discuss in separate blogs for you.
Embarkation at the new terminal in Fort Lauderdale was excellent, efficient and speedy and before we knew it we were on board sipping a welcome glass of bubbly and in total awe.
Celebrity Edge is a salubrious style of ship, with luxury beaming from literally every edge of her. The main area of the ship is the Grand Plaza housing the Martini Bar where everyone congregates in the evening to enjoy live music, a cocktail and the wonderful illuminating light show entertainment at the bar. The 4 specialty restaurants and the Al Bacio Café surround the Grand Plaza, so you can enjoy live music from any corner while dining or enjoying a coffee.
I loved the concept of having 4 different main dining rooms opposed to the traditional one which included Cosmopolitan, Normandy, Cyprus and Tuscan each offering their own signature menu and experience. We got to enjoy each one and my personal favourite was Tuscan, an Italian inspired restaurant. These 4 restaurants are included with your cruise. Specialty restaurants including Le Petit Chef, Raw on 5, Eden, Fine Cut Steakhouse, Le Grand Bistro, Roof Top Grill and The Magic Carpet do come with a small but worth it supplement.
Eden offers the option of a light healthy breakfast in the morning or a haven to retreat to during the day with a book. It is a beautiful tranquil area to take yourself away from everything. At night it comes alive with a wonderful show to enjoy by all the family.
For casual dining the Ocean View buffet restaurant serves breakfast, lunch and dinner throughout the day and the bakery is not to be missed.
Our stateroom was a Sunset Veranda located at the aft of the ship, with extra large balcony and the most amazing sunsets each evening and sun on the balcony all day long. I felt the attention to detail was exceptional with plenty of storage. The beds were most comfortable, in fact maybe too comfortable to get out of in the morning! The bathroom felt larger than usual again with plenty of cleverly designed storage and large walk-in shower.
There is no shortage of entertainment on board during the day and evening which ranges from live music, theatre performances, acrobat shows, outdoor cinema, game shows, art displays, nightclub, comedy club, pool party, garden party, silent disco, casino and the fabulous Revelation at Eden should be seen at least once. You can even book a behind the scenes tour of the ship. There is something for everyone to enjoy at any time day or night.
The main highlight of Celebrity Edge is the Magic Carpet. To explain this is a cantilevered platform on the edge of the ship that acts as a bar, restaurant, extension of the pool deck and port gateway when tendered. The Magic Carpet moves between floors at different times depending on the use and the views from here are incredible. This is a world's first floating platform on any cruise ship.
The pool area is quite large with plenty of seating on different decks, so you can be in the middle of the action or take yourself away to a quiet spot with a book and enjoy the sound of the ocean pass by. There are private cabanas available to rent by the day or week adjacent to the pool and the Magic Carpet. My favourite area is the Sunset Bar for set sail each day. The buzz of the bar and the views are exceptional as you take off to your next port of call.
Shopping on board is exclusive boutique style from Cartier, Bvlgari, Coach and Tiffany's and a good selection of duty free. The Spa area is beautiful and offers a huge selection of treatments to choose from. The relaxation area is fabulous, and a week's pass is quite reasonable. For the sports enthusiast the extra-large gym is sure to please.
During our Eastern Caribbean trip we enjoyed San Juan in Puerto Rico, Tortola B.V.I and St Maarten with the unbelievable famous Maho Beach. Here you can watch the planes land and take off directly beside the beach. We walked the cobbled streets of old town San Juan and finished the day with some local tapas which was thoroughly enjoyable, however we booked an island and beach excursion in Tortola and a catamaran excursion to Maho Beach in St Maarten with Celebrity. Both excursions were very well laid out and organised.
There were quite a number of families with children of all ages on board bearing in mind it was Easter break. While I did notice they organised entertainment for children and do offer excellent children's clubs, if you are looking for a ship with large water-slides, water parks etc you will not find these on Celebrity Edge.
Sadly, our cruise had to come to an end however, I will most definitely be booking Celebrity Edge again in the future. I highly recommend this ship for couples, singles, honeymooners, retirees and groups of friends. If you would like to ask me anything at all about my experience, please do not hesitate to contact me.
I hope you enjoyed my blog and pictures of our wonderful holiday.