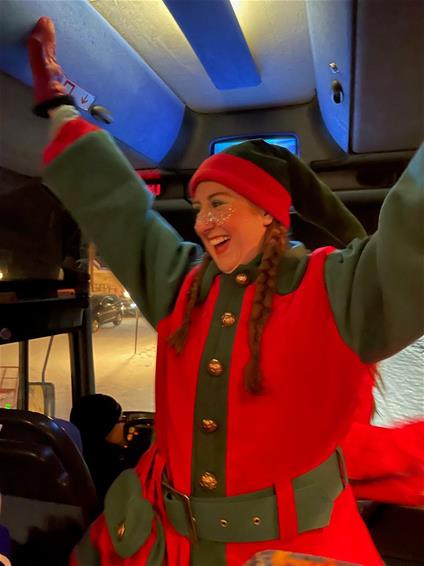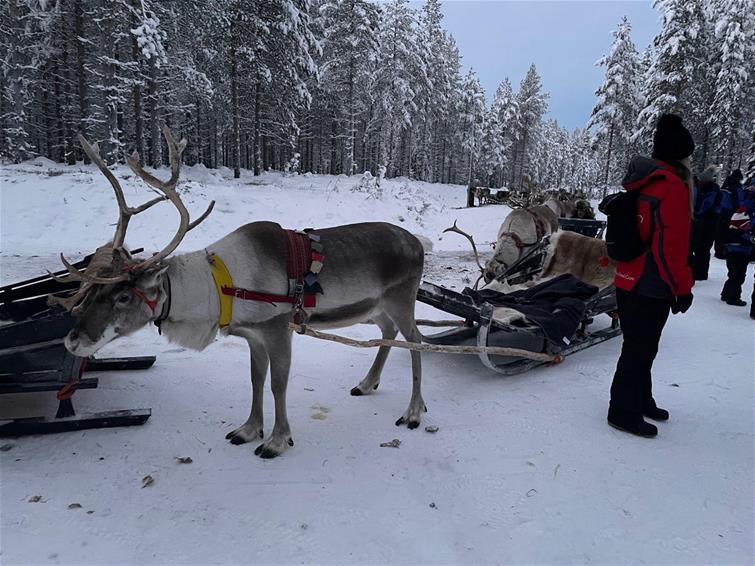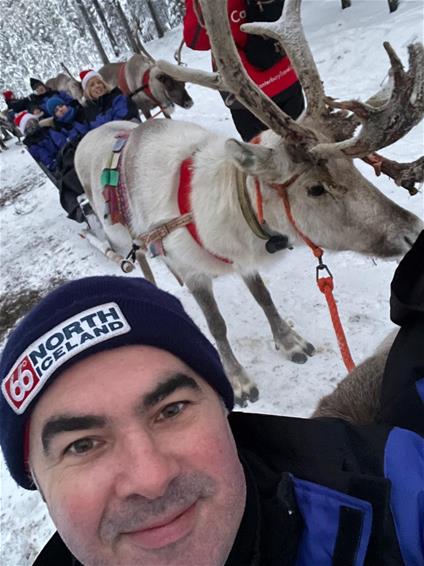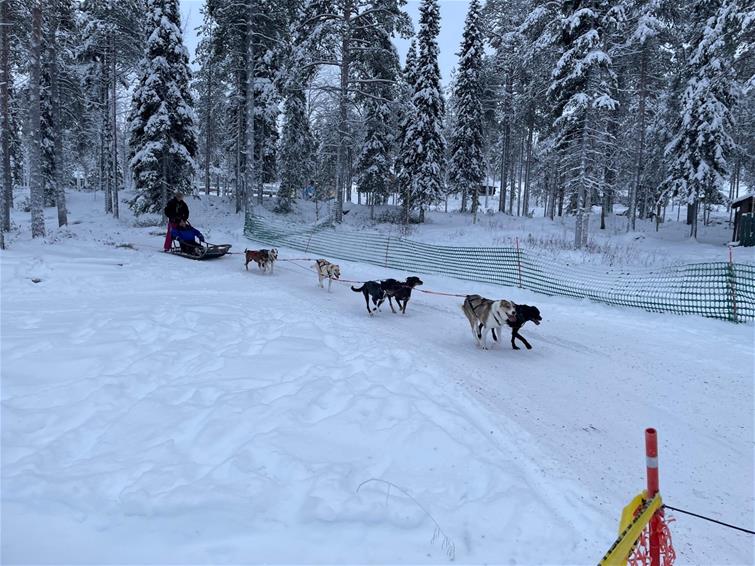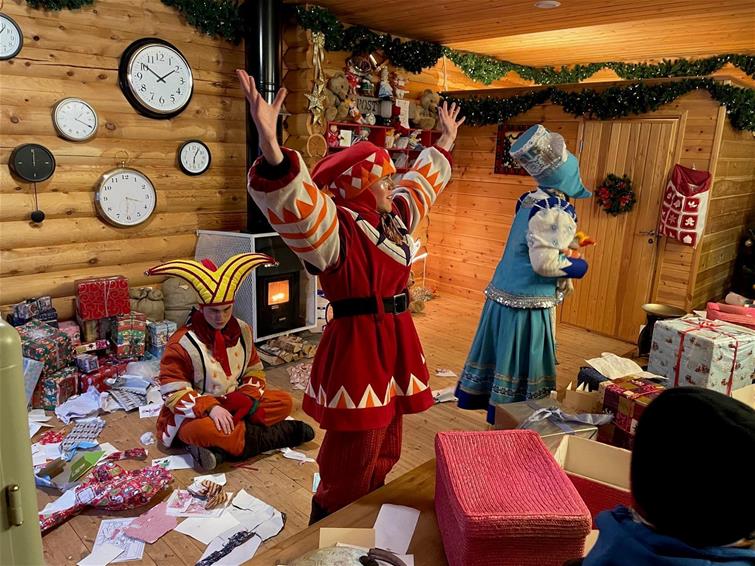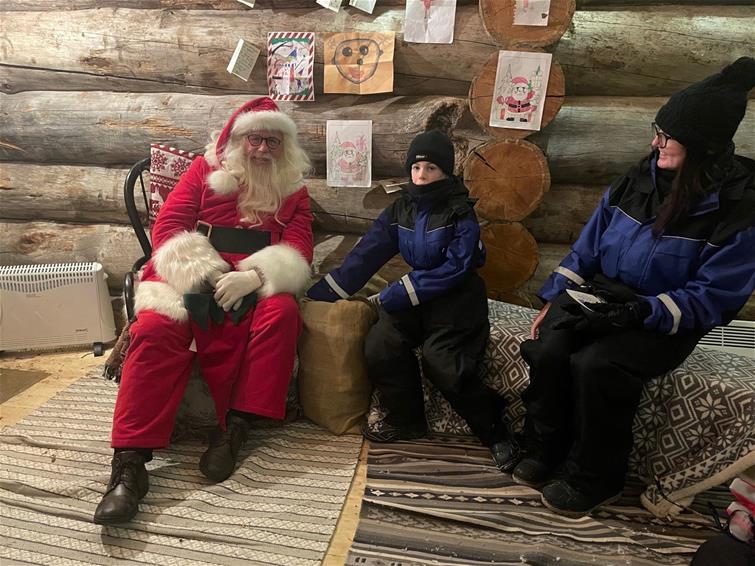 Immediately prior to pandemic lockdown in March 2020, I'd taken a first trip to any Nordic country with a long overdue visit to Iceland. My first time on an aircraft since then and deferred from 2020 due to Covid travel restrictions, I was Nordic bound again, flying mid-December 2021 to Finnish Lapland. A charter flight direct from Dublin into northern Finnish airport of Kuusamo (800km due north of the capital, Helsinki) A 5m high snowman in the airport parking lot set the scene for the days to come, letting us get underway for the relatively short 60 minute transfer further north to the Arctic Circle Hotel (Perhaps unsurprisingly located only a few hundred metres from the eponymous geographical line of latitude - For the geography nuts among us, this puts its location further north than any point in Iceland)
We travelled with Santa specialists Canterbury Holidays on their 2 night 'Christmas Sparkle' holiday. On reflection, I have to say I do believe this is the best of every world, balancing budget, activities and time on the ground. 'Budget' is maybe a misnomer here as this is not a cheap trip, but with the phrase overused, it truly will be a once in a lifetime experience for any kids travelling.
Day 1 arrival day is for settling in and getting sized up for your thermal snow suits and boots. Having had some experience with outdoor equipment, I knew straight away my own boots and gore-tex would fall well short of any hope of keeping warm in temperatures approaching -20 degrees C (minus!) on this trip (warming up to -15 degrees during the day!) An included dinner and elf entertainment brought the first evening to a close.
With everyone sized & suited up, there was no time to waste on Day 2 after breakfast with a full set of tasks to make the grade as one of Santa's helpers! First was a short trip to a local reindeer herder where we were treated to a short overview of their lives in front of a raging wood fire in their 'kota' dwelling (similar to the North American Indian tipi) A reindeer sleigh ride after was the first of many highlights to come.
Another short transfer to a local ski area let us try the snow for real this time with each person on their own toboggan. This free leisure time was interrupted (if required) by outdoor fires to warm up and hot berry juice. The nearby husky accommodation gave us a proper appreciation of these working dogs and their regimented diet, leading to their astonishing long lives. Not the preening 'show dogs' that the ranger mentioned, these instead were much leaner Alaskan Husky canines but with power that would put any of the Crufts prize winners to shame! The husky sleigh ride was a favourite in our house, our son even asking if our own dog could come next time?!
A snowmobile ride to Santa's postal sorting office followed with more hot berry juice by the ever cheerful elves. After some sorting of letters & presents, we got to spend private time with the man of the hour - Santa Claus himself and his helper elf, who were well informed of each boy & girls interests and hopes for what present they might receive.
A snowmobile ride afterward did little to quell the excitement of this fully loaded day of activities.
With many countries increasing travel restrictions, Canterbury were well up to the task. Antigen lateral flow tests (as required for Ireland arrivals) were provided complimentary on the final day lunch/shopping enroute to the airport, stopping at the ski resort of Ruka. With lunch provided at a local hotel, the increasing darkness (at 2pm!) providing a great spectacle, looking out at the floodlit ski runs.
With many new customers unable to get space for the 2021 trips, due to the original 2020 clients having to be moved to 2021, next year (Christmas 2022) is all set to be one of their busiest to date - get in touch!