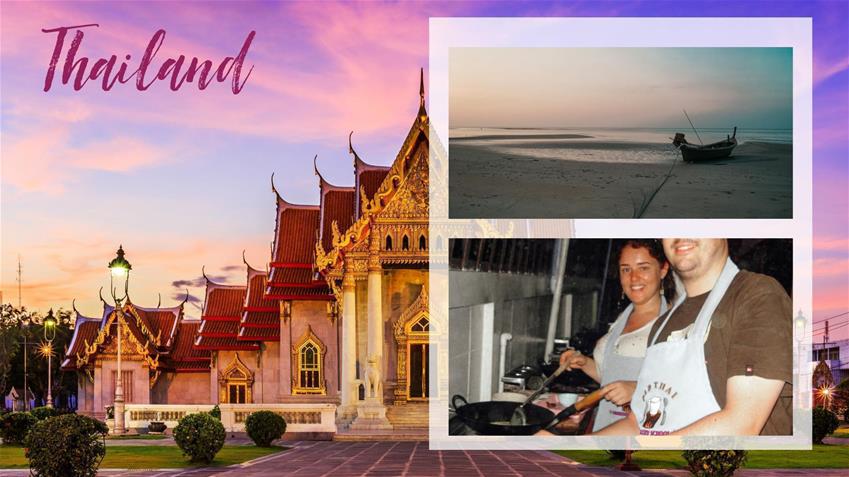 The best of the best so much so I've been 5 times! From backpacking to getting engaged there and our first long-haul family trip - I've experienced Thailand from all different points of view! It's wonderful for backpacking but it's even more wonderful to book one of its many very affordable luxury hotels. It's my favourite all-round destination with something for absolutely everyone and such amazing value, I could talk about it all day long...
Bangkok is somewhere that people have heard either terrible or great things about and I always say go and make up your own mind, it's such an exciting city, full of interesting and fun things to see and do including some of the world's best city hotels, great shopping in malls and markets (including the fascinating floating market) and seeing the city sights such as the Grand Palace. Seeing the numerous temples such as Wat Pho by Tuk-Tuk are a must. And that's before we mention the food, fine dining Michelin star to street hawkers rustling you up cheap and tasty dishes. All of this is possible before you consider seeing what's outside of the city at Kanchanaburi and Ayutthaya.
From the gorgeous markets and temples of Chiang Mai to beautiful national parks with waterfalls, rural villages and incredible scenery - the north is all go. You can visit an elephant sanctuary, have fun haggling for for gorgeous silks, go to the best cooking schools (essential!) and travel to border Burmese & Laos border area, known as the Golden Triangle. You can also use this area as jump off to take a boat down the Mekong to Laos one of the most incredible journeys ever (see my blog on Laos, Vietnam & Cambodia) or fly out of Chiang Rai / Mai down to the islands for some R & R. It's such a contrast to the beaches with its own style of cuisine and way of life. A a few days to sample the northern delights is all you need an you won't regret it.
Perfect beaches, incredible food, relaxing massages, optional nightlife - the perfect island life. There isn't enough space to run through all the different islands but a general rule of thumb if you are visiting during April-October, stick to East Coast (Koh Samui, Ko Pha-gNan for example) or October-April stick to west coast (Phuket, Ko Phi Phi to name a few). Depending how long you have, I'd recommend island hopping and some of my favourite places are Khao Lak, Ko Lanta / Krabi & the eternal favourite Phi Phi Islands Whether you want secluded romance, wild beach parties or family friendly fun, I can help you choose the right islands, there is a Thai beach resort for every taste!
I'm a certified Thailand specialist and would love to talk to you about the perfect Thailand holiday, whether it's your honeymoon, anniversary, birthday or retirement trip or you're just want to do something different on your annual holiday with family and/or friends. I promise there is the perfect holiday experience awaiting you in the Land of Smiles. Call me for a chat to explore one of my hall of fame destinations!