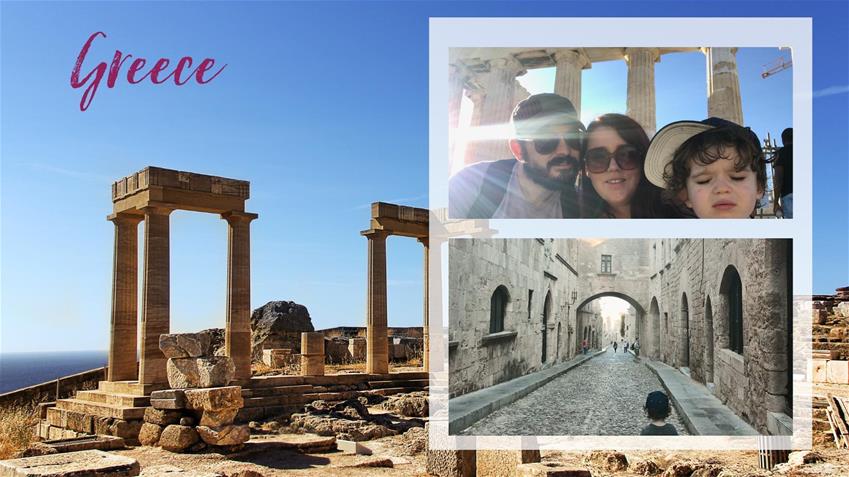 Greece is the perfect European holiday destination yet Athens is probably it's most underrated city. We stayed at a little boutique hotel in Psyrri. We only had two days, so we did the sightseeing hop on hop off tour to take in the ancient (and not so ancient) sights of this incredible city. The view from the Acropolis was astonishing (I'd recommend getting there early to beat the cruise ship crowds, as the sun is rising). The shops of Monastiraki are worth a look with a mixture of tourist tack and wonderful antique shops. Psyrri's small cobbled streets were a few minutes' walk from our hotel and was really vibrant by night with some great restaurants, one highlight was Lithos, delicious authentic Greek cooking. The temperatures were perfect when we went in late October in the mid 20s, I'd certainly recommend visiting outside of the hot mid-summer months!
Rhodes (or Ródos as the locals call it) conjured up images of the worst of mass tourism but we were looking for something family friendly, convenient and affordable and I had it all wrong! We stayed in a gorgeous 4* hotel with lovely views of the Mediterranean Sea with great staff and excellent facilities. We could see Turkey from our room too. Rhodes old town is a UNESCO World Heritage site and one of the best preserved medieval towns in Europe and it really is wonderful to walk around, with 200 laneways to get lost in and it's worthwhile having a look at Palace of the Knights which is more like a castle in Game of Thrones! We had one fab meal in Tamam which I'd highly recommend if you're in the area. The only downside to Rhodes is the lack of wow factor beaches compared to other Greek islands but if you are looking to lie by the pool, explore some historical sights, visit Greek's biggest waterpark and pay reasonable prices in warm weather, then Rhodes ticks all these boxes!
There are so many islands to explore in Gorgeous Greece so whether it's family holiday in Crete or a honeymoon in Santorini, drop me a line. I also have a short destination guide I can send you too.