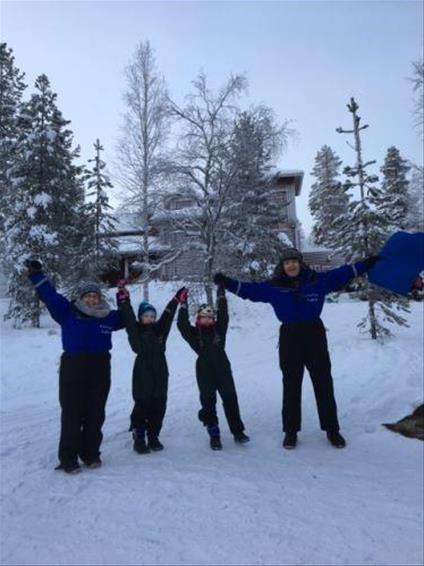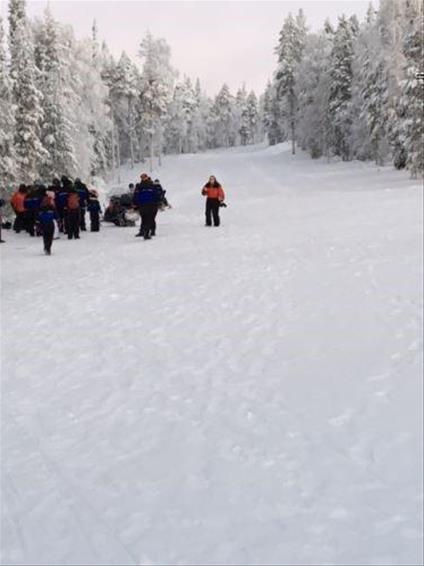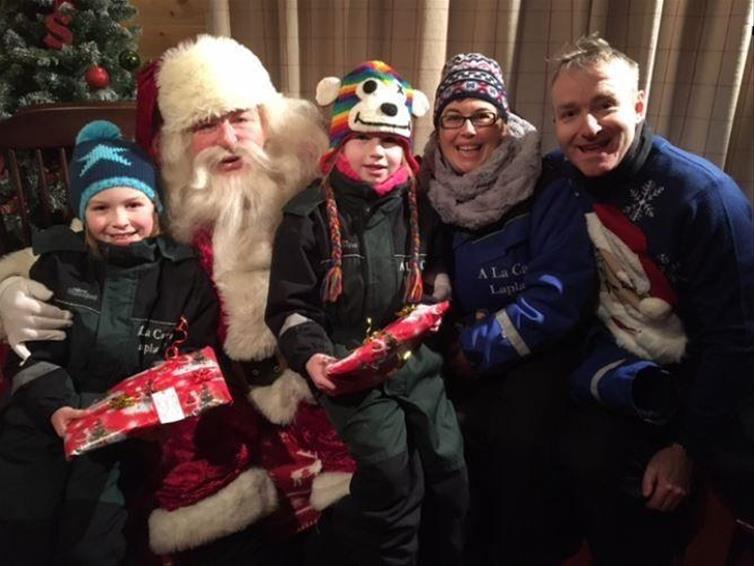 Sometimes in your life you do what will be that "once in a lifetime trip" and our trip to the North Pole was exactly that. With my husband Paddy and our two girls Molly and Kate, we set off to Rovaniemi in Northern Finland. We crossed into the Arctic Circle and into a magical world of discovery, fun, laughter and Santa. Our first evening we spent making snow angels, sledding and throwing snowballs - oh what fun!
The next morning we wrapped up in multiple layers as it was pretty cold and we headed out for a day of snow activities and our search for Santa began. First, we went on a husky sleigh ride…wow they are fast! Then we made our way through the forest and came across an elf called Wendy Wood who gave us a clue in our search for the great man. Our search led us to Santa's Post Office and we met Snowy Bowy who is responsible for making all the lovely bows that appear on Santa's presents. We met the other 3 special elves – Tricky Dicky, Noisy Nod and Speedy Sam who all helped us at various locations with clues. In the evening we took a magical reindeer ride in the forest and cuddled up under a warm blanket.
The next morning after more sledding, we set off on our final days search for Santa. Our first stop was thrilling as we tobogganed down a long slope and got a chance to drive the snowmobiles. We had promised to help Wendy Wood – Santa's chief maker of wooden toys clean up her workshop but unbeknown to us we were quite close to Santa's house.
We boarded a sleigh and went deep into the forest where we came upon a beautiful house located on top of a hill. The surroundings were magical with crisp white snow and beautiful trees everywhere we looked. Once inside we realised this wasn't Wendy Woods workshop but in fact Santa's house. We met his lovely wife Mrs Clause who was baking cookies in the kitchen. Then came the moment to meet the big man – our search was over. He was sitting in his parlour reading Molly and Kate's letter they had posted weeks earlier- they were blown away to see this and Santa had a good chat with them. Two very excited children and equally excited parents took the sleigh back down the hill into the forest.
This was a trip of discovery – the magic of Christmas exists in all its glory in one of the most isolated places on this earth and it exists in our hearts too. It will be a trip that I will remember forever - for its beauty, its magic, and its complete innocence and as a family it will be an abiding memory we will have forever no matter how old we are. Yes it was a once in a lifetime trip but the magic will never end!