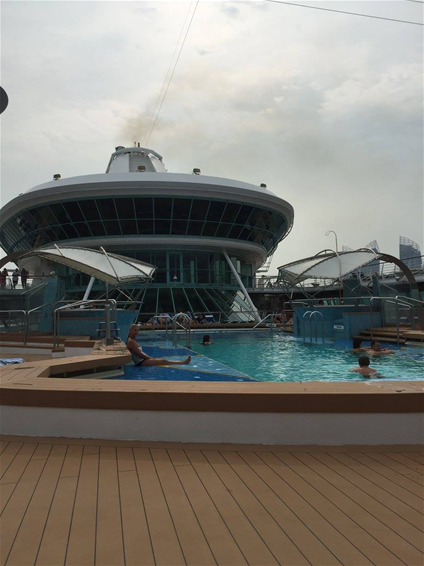 We haven't only cruised in the Caribbean, we also went on an 10 night Asian cruise in 2015. We embarked in Singapore and spent a wonderful few days prior to the cruise exploring this city-country. It was the cleanest and safest place we had ever visited and steeped in the different cultures making up its heritage. We visited many attractions such as the Gardens by the Bay where there is a spectacular light show! We didn't stay in the Marina Bay Sands which boasts the longest infinity pool in the world but we did visit for a chocolate and cheese buffet one evening and had a view over the entire bay. We also partook in a food tour one evening and sampled many unique and wonderful dishes.
Singapore is known to be expensive, but we found that you can holiday here with any budget. We visited numerous "hawker markets" which are mostly like warehouses with food stalls throughout and had some of the nicest food we have ever had and great value. These stalls are all hygiene rated so you knew you were always eating from clean establishments!
We then embarked on Royal Caribbean's Legend of the Seas. This was a smaller and older ship that has since left Royal Caribbean. Having been on both large and smaller cruises I do prefer mid to large sized ships just for the variety of experiences, but the smaller ships also have perks as they are less crowded and have a more laid-back atmosphere. Our ports in Thailand were Koh Samui where we visited the beach for the day and Laem Chabang which was two hours away from Bangkok. This was an overnight port so we took advantage, booked a transfer and stayed in Bangkok for the night. We took a boat tour on the river including visiting some floating markets and visited the sites such as the Grand Palace, Wat Pho and the famous Khao San Road for some drinks and to watch the world go by. We also visited Thipsamai restaurant which claims to be the oldest Pad Thai restaurant in Bangkok and it lived up to all expectations and for under €5.
After Thailand we went to Sihanoukville in Cambodia and Nha Trang in Vietnam where we visited some local beaches. We also visited Ho Chi Minh City in Vietnam and took a scooter tour through the city. Crossing the road in Vietnam was an experience but you just had to go for it and let the traffic weave around you!
I would definitely visit Singapore and Asia on a cruise again. The cruise was a great way to sample some of Asia and it led to me booking a 6-week trip to Asia in 2017!
If any of the above sounds like it might interest you, please feel free to reach out to me and we can plan your next adventure!