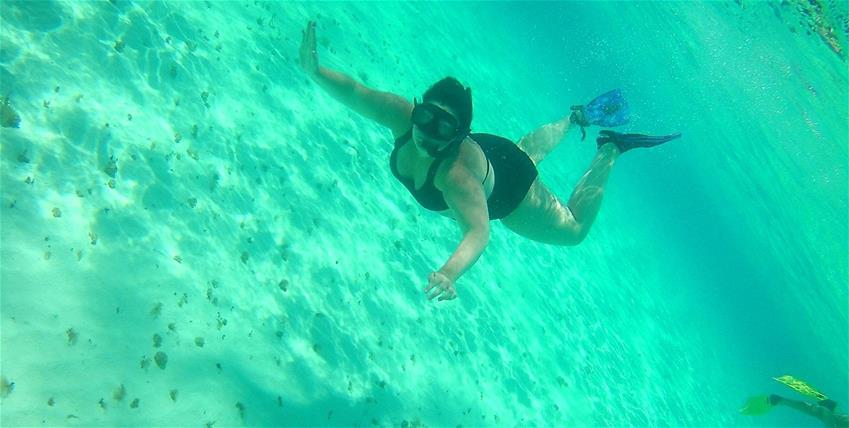 In April 2018 my partner Paul and I went on a 3-week holiday taking in 2 Caribbean cruises. Our first cruise was onboard Celebrity Reflection for an 11-night cruise aptly named the "Ultimate Caribbean". It was our first-time cruising with Celebrity cruises and the Reflection was at the time one of their largest ships. Celebrity is a luxurious cruise line and this was evident in the service, the food and the general atmosphere of the ship. Our days were spent lounging on padded sun loungers sipping on cocktails and our evenings were a buzz of culinary delights and entertainment. Our room was a partially obstructed view balcony which we enjoyed sitting on in the evenings to watch the sunset.
At our stops we partook in a wide variety of activities; in Grand Cayman we visited the famous "Stingray City", a sandbar in the middle of the ocean where wild stingrays have been tamed over time and weave in and around the visiting tourists. We even got to briefly hold one and it was amazing! In Cartagena we spent the afternoon wandering the quaint streets before returning to a quiet afternoon on board the ship as everyone else was in port. Aruba was our adventure stop as we joined a UTV (off road vehicle) tour. We visited a national park and even did some cliff diving and it was the experience of a lifetime. Aruba was also an overnight port and we choose this night to go to some of the speciality dining on board and visited the Italian restaurant the Tuscan Grille. In Bonaire we took a taxi and visited a local beach resort for the day and in Curacao we went off on a snorkelling trip and visited several beautiful reefs.
We disembarked and we visited Sawgrass Mills outlets which are one of the largest outlets in the US and were a short drive from the cruise port. Two other couples from home joined us to go on Royal Caribbean's Harmony of the Seas the next day. The Harmony of the Seas is the second largest cruise ship in the world, and it is spectacular in both its size and in its variety of activities and facilities. On our first night we went to see the ships production of Grease and we also went to the Love and Marriage gameshow, the Ice-skating show and the Fine Line which is the outdoor show in the Aqua theatre featuring aerial stunts and diving.
We visited Cozumel in Mexico and went off snorkelling as a group, we went to Ocho Rios in Jamaica and visited the "Blue Hole" a series of waterfalls and pools to hike around and jump into as well as going river tubing and sampling the local jerk chicken. Lastly, we stopped at Labadee in Haiti which is Royal Caribbean's own port and we spent the day sunbathing, swimming and enjoying a BBQ provided by Royal Caribbean. It was also a bonus that our drinks package also worked on land on this day! Overall this holiday was the perfect mix of relaxation and adventure on two completely different ships and we loved every minute! If you think you would love the above as much as I did, please contact me to find out more!