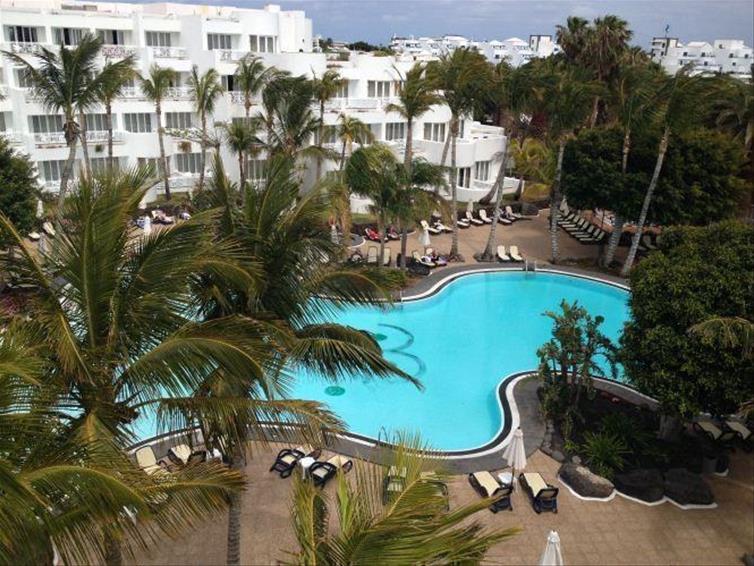 Lanzarote is a volcanic island and is probably the most popular of the four Canary Islands on the Irish Market. It lies just 70 miles off the coast of Africa with a 4 hour flight time from Ireland. It has an enviable year round climate which features extremely low rainfall and temperatures that rarely fall below 20c in the winter months (it's actually on the same latitude as the Sahara), as a result it would be an extremely popular holiday destination all year round.
Finally, after many years in the Travel business I got a chance to experience it. I had not flown on a charter flight in a few years and I must say Thomsonfly and Air Europa were very good to fly with, we paid a little extra for the legroom seats which worked out well - a lot of charters offer this facility now.
To maximise the experience and to take in as much as possible we decided to split our stay in 2 hotels, both 4* and both very good value. First up, the Hipotels La Geira in Los Pocillos on an All Inclusive basis. This is a lovely bright modern well-kept hotel, the food was excellent with a huge choice and the room was modern, spotless and had the biggest balcony ever! The hotel features a magnificent pool and is directly across the road from the beach. It's in the Los Pocillos area so you are within walking distance of both Matagorda and Puerto Del Carmen as it nestles between the two. This hotel is excellent value for an All-inclusive relaxing break.
Next up the Beatriz Playa Hotel, this would be a larger busier hotel with an impressive atrium. The hotel would have more facilities (including a great SPA!); it is down the end of Matagorda so close to the airport and a taxi ride from Puerto Del Carmen for a busier atmosphere. This would be a real family favourite too as they have plenty to keep the kids occupied.
There is a fantastic promenade that stretches nearly 10km from Matagorda to the end of Puerto Del Carmen. For the main part, the traffic runs in one direction with a cycle lane and a wide pavement and it is great for a stroll, run or cycle. Along the promenade there is also a great choice of restaurants, bars and shops for some retail therapy.
Lanzarote offers a wealth of things to do and boasts a number of excellent attractions, which should feature on any itinerary. Timanfaya National Park in the South of the island is a jaw dropping stretch of volcanic wasteland and a must see for any visitor as it has one of the world´s most unique landscapes. Add in the fantastic beaches, climate, cuisine and friendly locals and it is the ideal spot for a relaxing break.
If wish to find out more about Lanzarote, the Canary Islands or 2 Centre Holidays please call or email me.