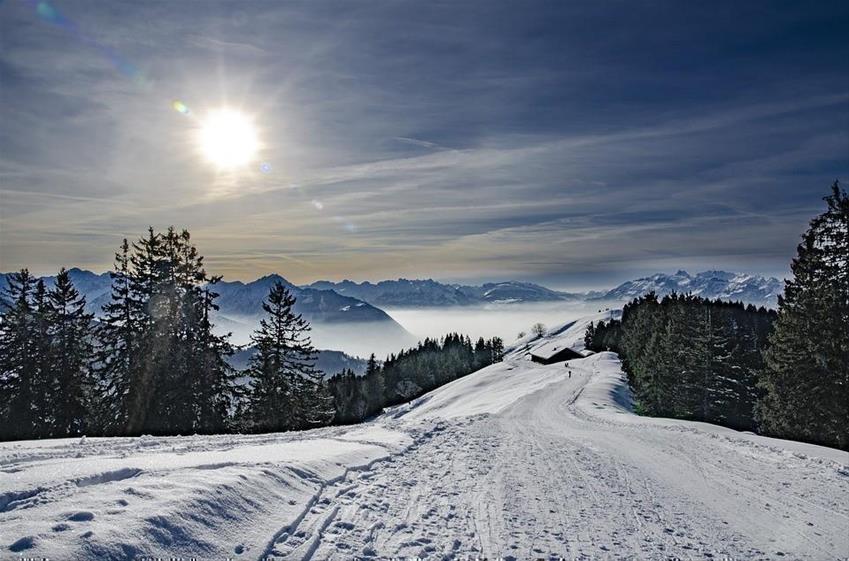 I remember my first ski holiday like it was yesterday! My then fiancé and I decided to go to Austria, and I was feeling slightly nervous as I am the furthest thing from a "dare devil", while Andrew likes to push everything he does to the absolute limit. We flew into Vienna and caught the train to a small town called Semmering. The train trip was spectacular! We both could not believe the beauty of our surroundings as we made our way to Semmering through the snowy capped mountains.
On arrival, we immediately realized that we were not full prepared for the weather conditions! (Being South African, we were pretty unprepared!) First stop was the local ski shop where we invested in some decent warm, waterproof gear.
We then proceeded to check into our gorgeous family run Hotel. We were treated to a traditional meal and we headed to our cosy beds. The plan was to get up early the next day hit the ski slopes. I was excited to get started at this point.
The next morning, after a hearty breakfast, we headed straight to "Ski School". It didn't take long, and as predicted Andrew headed off on his own to hit the big slopes. I was enjoying "Ski School" and I felt it was important to get the basics right before venturing down any form of slope. From the corner of my eye I could see Andrew flying/falling/wiping out down slopes as I was steadily growing in confidence.
What I learnt from this experience, was that skiing is what you make of it, if you want to fly down the big slopes that's great, however if you prefer the slower ride (like myself), then that's fine too!
From dinner in the Igloo Pub, to watching the Alpine World Cup on the slopes sipping Gluwein, this holiday turned into a magical experience that we will never forget!
We cannot wait to return to this exact resort with our children- and yes, we did still get married after going on a beginner ski holiday together!!
If you interesting in hearing more about picturesque skiing destinations, contact me to plan your next ski trip.