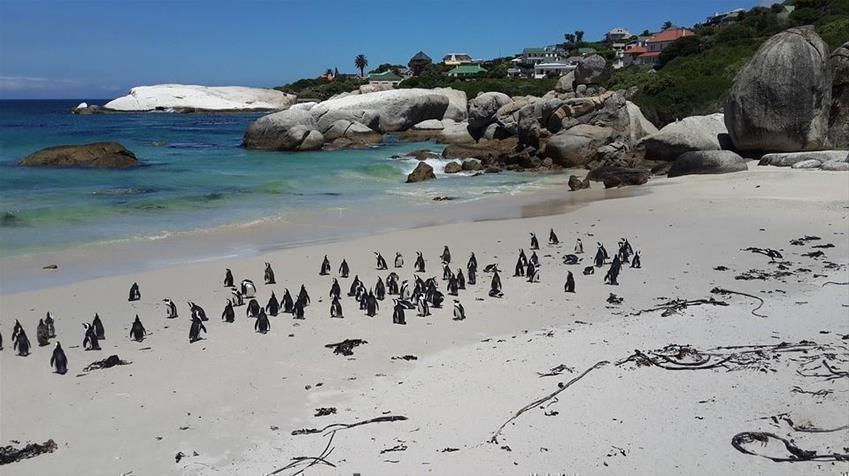 Eight months after my family and I moved to the beautiful Emerald Isle we decided to plan a quick trip back to South Africa to see family and tie up a few loose ends. I'll not deny that getting through our first Irish winter was quite a challenge as South Africans and by the time April arrived we were longing for our dose of Vitamin D!
We decided to spend our first week in Cape Town, and then head to the glorious Kwazulu Natal Coast in order to enjoy the warmer climate of the Indian Ocean. While in Cape Town, we visited the famous Boulders beach (we had a magnificent 27-degree day in Autumn!). We ran up the famous Chapmans Peak and treated ourselves to a luxurious 5 start "tea" at the luxurious Mount Nelson Hotel in the heart of lively Cape Town City Centre! My husband even managed to fit in a game on a magical golf course.
We also ran the world famous beautiful 2 Oceans Marathon. Well to be honest we did the 21km half marathon- but the scenery was magnificent!
At the end of a very busy week of magnificent meals out and a few glasses of Cape Town Sauvignon Blanc we jumped on a short 2 -hour flight to Durban International. We arrived to humidity and heat and the magnificent Indian Ocean! After a short 20-minute taxi drive we arrived at our resort in Umhlanga and it was heaven.
We were greeted by friendly staff with welcoming drinks and headed straight to our air-conditioned rooms to unpack. What followed were 6 lazy days of beach, pool, gorgeous and affordable restaurants, swims in the warm Indian Ocean, glasses of delicious Cape Wine and a trip to Us haka Amusement Park, which was a must for the kids! We even squeezed in a trip to the biggest shopping centre in Africa to pick up some treats to bring home.
Our home is very much in Ireland now, but we were lucky enough to be able to visit the sunny shores of Kwazulu Natal in South Africa to get our dose of vitamin D, good food and wine again and plan to do the same next year! If you are interested in planning a South African adventure, I have a wealth of information and would love to plan a unique holiday experience for you.