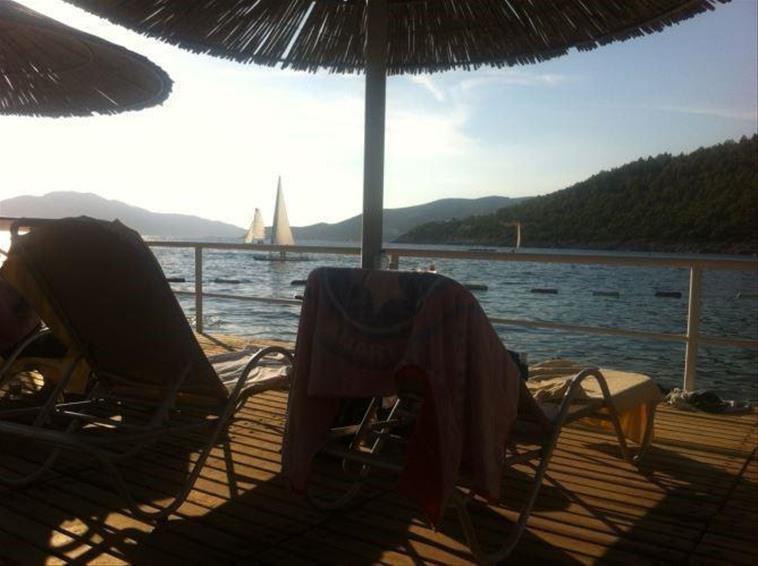 I visited Turkey this September 2015 and what a unique place it was. We stayed in an all-inclusive Marc Warner location in Bodrum. We were greeted by very polite staff with great knowledge of the English language. Our rooms were right on the beach front overlooking the pool and private beach which also gave us a great view of the magnificent ocean with the Greek island of Kos in clear view.
If you are of the sporting nature then the Marc Warner hotels offer you great sporting activities from, sailing, wind surfing, paddle boarding, boat trips on Schooners and power boat trips. These should be booked in advance such is their popularity and demand. And if you are not a sporty person then why not lounge back on the decks which sit on the water and watch all the water activity displayed in front of you with a glass of cool beer served from the beach bar nearby.
Bodrum was only a 15 minute bus ride away. This city shows off its unique architectural appearance comprising mainly of low whitewashed buildings. The Bodrum marina is a beautiful place where traditional gulets and small fishing craft work their trade amongst the wealthy yachts and cruise liners. Restaurants are in abundance offering cuisine to suit all tastes. Turkey is a place of incredible landscapes and an exotic culture.
Walking down through the main market street was great fun as all traders try to ply their skill in showing you some incredible products they have. This is a real part of their culture and boy do they do it well. You have to be able to haggle and if you can then there are great bargains to be had. It's a wonderful atmosphere to enjoy as the canopies give you a little cooling off period from the wonderful sunshine.
One of the wonderful sights to be experienced is the spectacular sunsets that happen on the clear evening sky most evenings. You can just relax in the peaceful surroundings of a sunset bar and watch the amazing sinking of the yellow shimmering sun as she bids farewell till the following day.
Turkey was a wonderful week and I definitely came back relaxed and refreshed. A place that should be on your next travel destination.