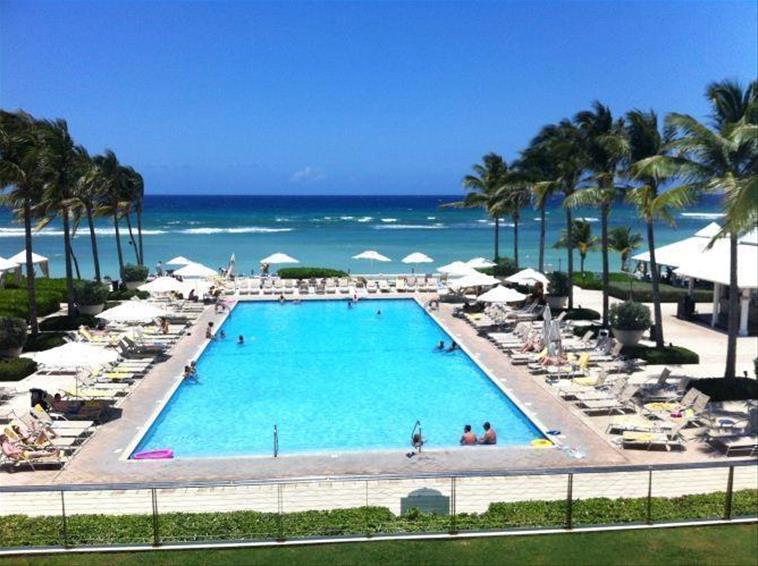 I had the great pleasure of visiting one of my favourite destinations recently; Jamaica. I flew into Montego Bay with Virgin airlines which were most relaxing in their new aircraft. Virgin operates a daily flight.
On landing at Montego I was greeted by the wonderful warm sun which made such a difference from the Irish weather. We were firstly taken away to our first hotel called The Beaches Negril which boasts three lovely pools and also is situated right on the beach. My room overlooked the beach and pools giving me a wonderful view of white beaches and blue sea. What a combination to make your stay a relaxing one. The hotel staff could not have been friendlier and the food was fantastic. The children here are well looked after with plenty of activities organised by their kids club.
We were taken on a Catamaran cruise which was a great adventure with wine, dance and singing offered as entertainment and the cruise took in the beautiful coastline with the opportunity to swim, snorkel and dive to view the picturesque marine life. We also visited a famous landmark called Ricks cave. You could stay on the boat or swim ashore to jump from the famous cliffs which were great fun.
We spent a pleasant day looking at the fantastic choice of hotels in Jamaica such as the Sunset at the Palms. We went to visit Dolphins Cove Negril and this was undoubtedly the highlight of my trip which had us swimming with dolphins and other sea creatures such as manta rays and even sharks. Being allowed to get so close to the dolphins and being pulled along by holding their fin was something I will never forget. What fantastic creatures, I even got a kiss on the cheek from one dolphin. Breath-taking!
Just when I thought things could not get better we booked into a hotel called the Half Moon Hotel and the best way to describe how I felt was wow! This was not just a hotel it was a palace fit for kings which is probably why the Royal Family stayed here. We were given a villa each by the beach and the rooms were just amazing. When you wake up in the morning you are greeted by the blue ocean splashing gently practically against your window. A very nice way to wake up!
Tennis courts and an 18 hole golf course are available to you and the food was just amazing with wonderful staff ready to make your stay most pleasurable. After two nights at the Half Moon Hotel we did not want to leave.
We called to see other hotels on our trip like The Hilton Rose Hotel, The Holiday Inn and the RIU Montego Bay. All hotels were very high standard 4 star hotels and I would have loved to have stayed in any of them as the welcome was great. Other hotels we saw on our trip were The Gran Bahia Principe, The Royal DeCameron Club Caribbean. Again, they were all beautiful hotels of top quality and well worth a visit.
On our last night we stayed in The Jewel Dunns River Hotel situated on a magnificent beach and in a good location. During our stay we visited the Dunns River Falls and Mystic Mountain. The Dunns River Falls is great fun and everyone climbs the rocks and you will enjoy getting wet as it is breath-taking. We climbed Mystic Mountain in Ocho Rios by cable car and viewed how beautiful Jamaica is from high up. The descent for me was very exciting as we had to travel back down the mountain by Bobsled ride. There are a lot of other activities at Mystic Mountain for example zip lining and much more.
I should also mention the great nightlife. We went to a Sandals Beach party. I never expected such fun. The food and drinks were like nothing I had ever experienced. They had beach huts with chefs cooking while you watched and every choice of food you could imagine. The music was fantastic with bands that would be very successful around the world. They had people dancing on stilts and the people of Jamaica can really move.
These are just a few of the fantastic experiences you can enjoy when visiting Jamaica. I have to say I would seriously recommend Jamaica for any type of holiday whether it is a family holiday or a honeymoon, Jamaica ticks all the boxes.