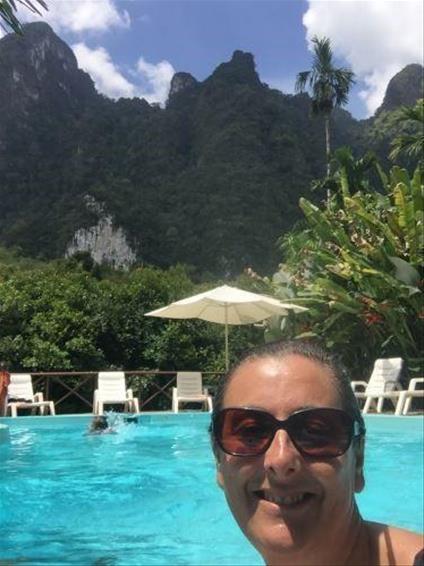 *Updated July 2020: Elephant Hills had been awarded 'Best Luxury Tented Camps, Thailand', for 2019 by the Global brands magazine awards. These awards are for companies who have stood out among the industry, demonstrating exceptional service and unique vision*
Elephant Hills is Thailand's 1st luxury elephant camp. It allows you a once in a lifetime opportunity to interact with the endangered Asian elephant. It is quite over whelming really, as you are given the opportunity to get right up close and personal with the elephants. Their sheer size only becomes apparent when you are given the opportunity to wash them! We obviously weren't doing a good enough job as our elephant decided to fill her trunk with water and take matters into her own hands, completely soaking us in the process! This only added to the enjoyment and fits of laughter!
Later we were given the opportunity to feed the elephants. I don't think I have ever seen so many pineapples, bananas and apples in one place to feed 12 hungry elephants! A truly memorable experience, I feel very fortunate to have been able to travel and spend time here. One for your bucket list, there are endless activities to do and places to see; kayaking, rope swings, jungle tents, amazing pool views, beautiful valleys, floating luxury tents and temples are all part of the experience here.
After saying goodbye, it was back to the Elephant Hills camp to stay the night in our luxury tent - camping in style in the rainforest! A delicious dinner is served in a buffet style and the local school children showed us the traditional Thai dance, providing entertainment for the evening.
In the morning we travelled to the River camp, a floating luxury camp on Choew Larn lake. I would recommend a 2-night stay, so that you can experience all the wonders this camp has to offer. The journey to the camp takes about 45 mins by long tailed boat with beautiful scenery. It is quite something when you arrive, both the restaurants and the river camp tents float on the river, allowing you to jump straight from your terrace into the lake. All rooms open onto a spectacular view of the lakes, lime stone mountains protrude from the water, I felt like I was in Jurassic park! The atmosphere here in very relaxed, chill out, take a swim or take a kayak to explore the lake and look out for monkeys!
Elephant Hills offers a great adventure without having to exert yourself too much. It is a unique experience that I would highly recommend. If you would like to know more details, please don't hesitate to contact me.